Looks like we might be home for a while, and in between our Netflix binging, workouts and nap time, many of us are getting used to the new normal of working from home (WFH). You want this space to feel productive, inspiring and, lezbehonest, real queer. Here are some of our favorite ways to queer up your WFH space.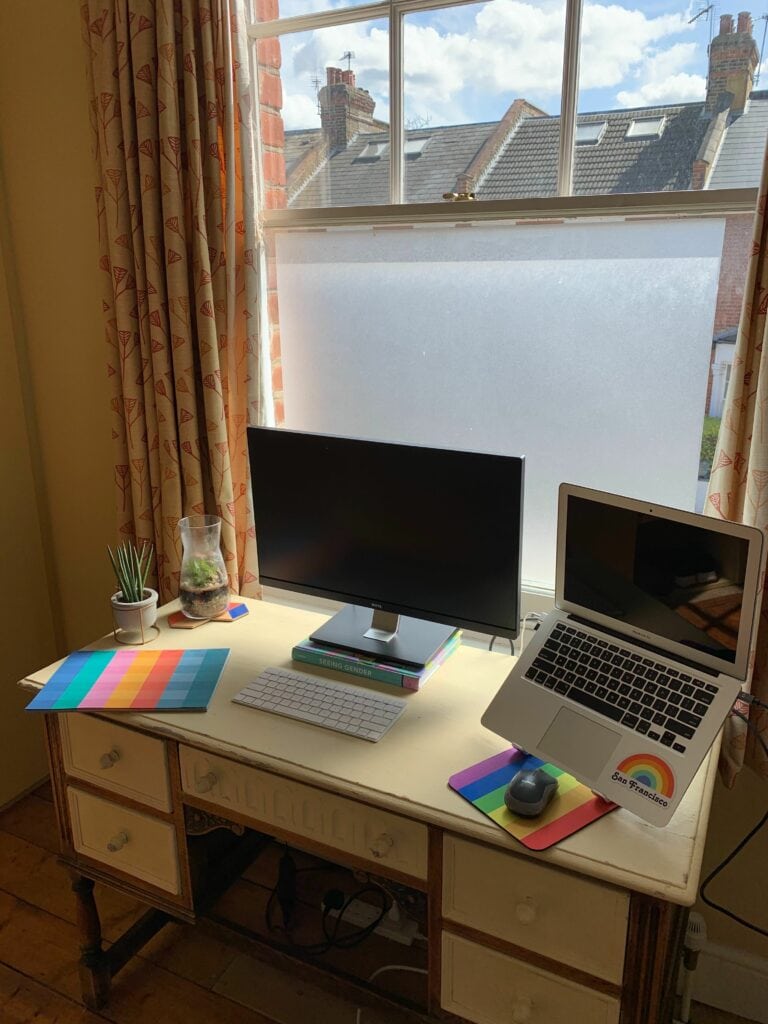 Rainbows. Rainbows everywhere.
If you are out at work, then let the rainbow flag fly. Have a big rainbow flag hanging out in the background, or a small one in your pen cup. If you are not out, then keep it for your own personal gain. Stickers, mouse pad, poster of The L Word on the wall that you face, bring those pieces of your personality to your workspace
Plants on Plants on Plants
Keep it green and add some life to your workspace. If you are not great with maintaining plants, purchase a succulent or a fake plant that looks real (it still counts, I promise). Having something that is alive will give you a daily purpose to work at your desk and they're pretty.
Have an animal
Animals have to appear in your virtual meetings, even if it is your roommates pet, an animal must be shown. Don't have one? Reach out to your local animal shelter, during this lock down many of them are trying to foster animals to homes. Remember when you used to not have time to foster an animal because you were never home? Problem solved.
Change your Zoom background to an LGBTQ+ background
People are getting super creative with their virtual backgrounds during meetings. Pick a movie or show that features LGBTQ+ characters, then you don't have to decorate your desk and it's a fun ice breaker to tell your coworkers about the show and encourage them to watch it.
Once you're done with work, you can wind down by watching LGBTQ+ content to treat yourself. While we hope you take our tips, however you decide to decorate your workspace, be sure to buy from local businesses, LGBTQ+ businesses and POC businesses as they are the ones who need our support the most.