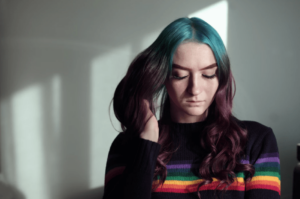 In partnership with Mood Health.
Going home for the holiday season can be a stressful time for most people, and for someone in the LGBT community, the holiday season can be even harder. You don't know if you'll be welcomed home with open arms, if you're going to deal with aggressive comments, or if the whole experience will be awkward. Before you head home for the holiday season, we have some tips to help you survive it and come out the other end with your mental health intact.
Talk to a professional
Sometimes all the face masks and self-care rituals in the world don't compare to talking to a professional. Talking to a counselor can get you out of your own head and get an outsiders perspective. When it comes to talking to a professional, you want to find someone that understands your personal needs and is looking for the right solution for you. Mood is a mental health company by real humans, for real humans, with real humans at the end of a phone line. Check them out here.
Take the pressure off
Before you go home, you need to take the mental pressure off of the situation. You've probably been anxious over the thought of going home for days or weeks, so this is when you need to take a step back and breathe. If you're not careful, you'll make it worse in your mind than it actually will be. Take some time to analyze the stress in your mind and what you've been thinking about. Get it out by talking to friends about it or writing it out in a journal. You might also have pressure to be the same badass queer that you are in your day-to-day life. Don't feel bad if being around your family makes you retreat to the darkest corners of the closet to survive your trip home. You can keep being your tough, activist self as soon as you're home if that's your safest option. Do what you have to do to mentally survive the holiday. Whatever you choose to do is valid and the right choice.
Mentally prepare for every situation
One of the hardest things to deal with is the intrusive questions and remarks on your life when you're home for the holidays. Mentally run through all the possible things you know each family member could say and play out how you're going to deal with it in your mind. Depending on what your family knows about your life, or if you've come out over the last year, you might not know what to expect. In that case, be ready for anything that could come your way. Keep in mind, just because you're a tough, vocal activist in your real life, your family can be another battle that you decide isn't worth it. Just because you don't want to go head-to-head with your homophobic uncle doesn't mean you're less of an activist. You're just saving your energy for the battles that matter most.
Form alternate plans
You can alert nearby friends that you might need to come crash on their couch if things aren't going well. Creating plans with friends also gives you time away to get some breathing room and come back to deal with your family in a better way. If the last time you went home was a disaster, it might be worth considering staying home or limiting your time home. There is a lot of guilt placed on everyone to be home for the holidays but put your mental health first this year.
Keep tabs on your mental health
It's easy to think you'll maintain your cool when you're home, but the reality is once you're there it's easy to have one little comment start a huge fight. So, keep these tips in mind when you're home:
Keep tabs on how much you're drinking (If you're over 21). Alcohol can fuel arguments with your family, so limiting your alcohol consumption can help.
Watch how you're feeling. If you're feeling anxious, simply leave the room. Call a friend, go to the bathroom, do what you need to do.
Message a queer friend when you're hitting your limit. Make a deal with a friend to keep checking in with each other.
Schedule in some down-time as soon as you're back to your usual space. Take a few days to binge your favorite TV show or do something else you love to do.