Are you ready for Pride!? I know I am. I also know that sometimes it's difficult to feel #wickedproud when every guide, article, photo and blog post you see is almost exclusively for the guys. So we've done the job of finding THE events, parties and parades that apply to you – the most attractive, funny, intelligent reader we know – in our Ultimate Lesbian Guide to Boston Pride 2015!
My favorite thing about Pride in June is that it's not just a day, it's not even a week… it's an entire effin' month! Which means you should probably get ready to party, like, yesterday. Or at least by this Thursday night. So quickly before we head out, Pride roll call:
Sunglasses?  √
Water bottle?  √
Other water bottle?  √
Rainbow suspenders?  √
iPhone (with the HER Boston Pride Guide)? √ Lez do this, beautiful people!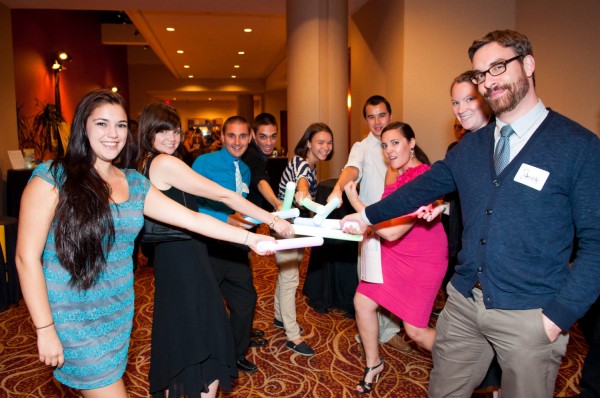 Pride Gala via HRC Boston
Everybody loves a big, fancy party. Especially during Pride month! This year Celebrity Cruises presents the Pride Gala at the Courtyard Boston Downtown hotel. The Mayor Thomas M. Menino Pride Award will be awarded to individuals and organizations for demonstrating their commitment to the visibility of and advocacy for the LGBT community in Greater Boston and beyond. VIP Cocktail Hour (read: open bar) runs from 6pm – 7pm followed by the Gala Dinner from 7pm onward. Stay tuned to the Boston Pride website for more information on the evening's full program closer to the date.
Venue: Courtyard Boston Downtown
Where: 275 Tremont St, Boston, MA.
When: Friday, June 5
Time: 6:00pm – 10:00pm
Tickets: http://bit.ly/1J88u0i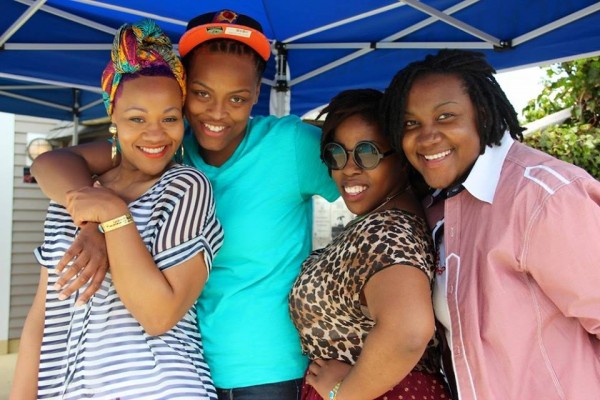 Women of Color Weekend
Kicking off the Pride festivities in Greater Boston this week is the Women of Color Weekend. From workshops to comedy, tequila tasting to burlesque, sex talks to scavenger hunts, pool parties and more, WCW is the place to be this weekend! Buy your tickets and register now… Do it.
Venue: all over Ptown (Check website for events!)
Where: Provincetown, MA.
When: Thursday, June 4 – Sunday, June 7
Time: specific to event
Tickets: http://bit.ly/1MigudL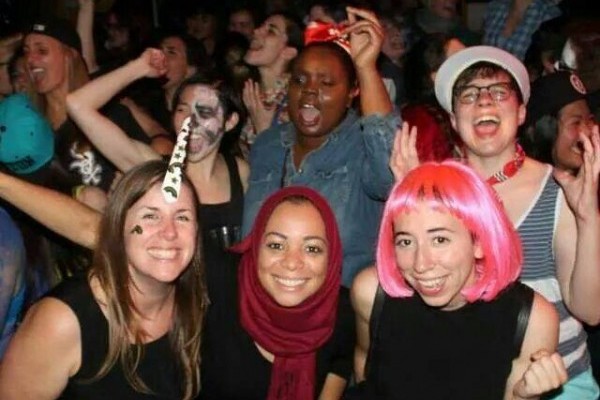 Queeraoke
End next Thursday with some good ol' oral debauchery. Named Boston's Best LGBTQ Night 2015 and Best Karaoke night 2015, Queeraoke is perfect for the kind of shenanigans you want to get into. So join Queeraoke AND Boston Pride as they team up for an (official) Boston Pride night of shot taking, booty shaking, soul singing queer goodness. PLUS, a photo booth. You know what's gonna happen in there… you'll take pictures. It's a $10 donation and the proceeds will benefit Boston Pride.
Venue: Midway Cafe
Where: 3496 Washington St, Jamaica Plain, MA.
When: Thursday, June 11
Time: 8:00pm – 2:00am
FB event: http://on.fb.me/1SUeTPS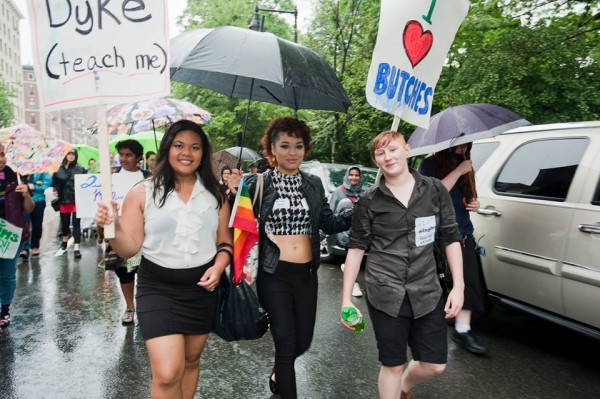 Dyke March (rain or shine)
Join thousands of LGBTQ people marching in community for the 20th year of the Boston Dyke March – a free, non-commercial, community-centered, grassroots, inclusive pride event. Does that not sound like the absolute tits? I think it does. Don't be fooled by the name, The Dyke March is for everyone: dykes, lesbians, non-binary people, queers, bisexuals, trans* folks, genderqueers, and allies! Meet up at 6pm for a little entertainment and rallying and then march off the Common at 7pm. Rain or shine! Noisemakers encouraged! Bikes at the back, baby!
Venue: Parkman Bandstand on Boston Common
Where: Tremont St, Boston, MA.
When: Friday, June 12
Time: 6:00pm
FB event: http://on.fb.me/1ACYyJg
[Download text="Want to know everything about PRIDE 2015? Download HER The Lesbian App to read more awesome posts just like this." url="http://api.weareher.com/g/0138″]
Venue: The Greatest Bar
Where: 262 Friend St, Boston, MA.
When: Friday, June 12
Time: 9:00pm – 2:00am
Website: dykenight.com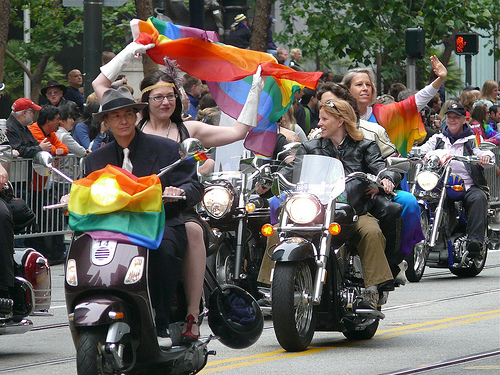 Dykes on Bikes in Boston parade
This is what it's all about – why we go to Pride (it's not just for the brilliant looking, often scantily clad, queer women). Boston Pride creates change and progress in society by embracing the LGBTQ community's diverse history, culture, and identities, promoting community engagement and inclusivity, and striving for visibility and respect in unity. Get ready to feel ALL the feelings. It's worth every second of standing in the scorching sun or the pouring rain. And, there are dykes, on bikes.
Venue: Copley Square to City Hall Plaza
Where: Boston, MA.
When: Saturday, June 13
Time: 10:00am – 6:00pm
The parade @ Copley Square: http://www.bostonpride.org/parade/
The stage @ City Hall: http://www.bostonpride.org/stage/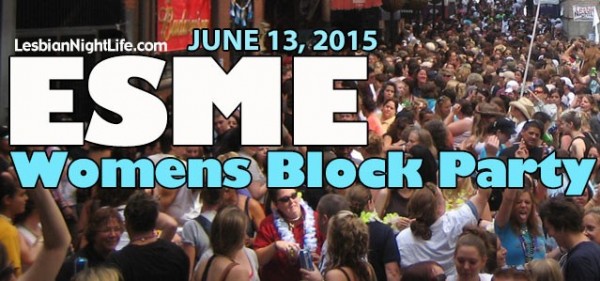 Esme Women's Block Party
Where the women at? Oh hey, they're on Boylston. Find your way to the Esme Women's Block party after you've soaked up enough of the parade and pride fest for the day. Drinking, dancing, drinking… and then head to the after party. (wo)Man, I love Pride!
Venue: Boylston Street across from Boston Common
Where: Boston, MA.
When: Saturday, June 13
Time: 2:00pm – 7:00pm
Website: lesbiannightlife.com
Venue: Kingston Station
Where: 25 Kingston St, Boston, MA.
When: Saturday, June 13
Time: 7:00pm – 2:00am
FB event: http://on.fb.me/1SZ1ZA2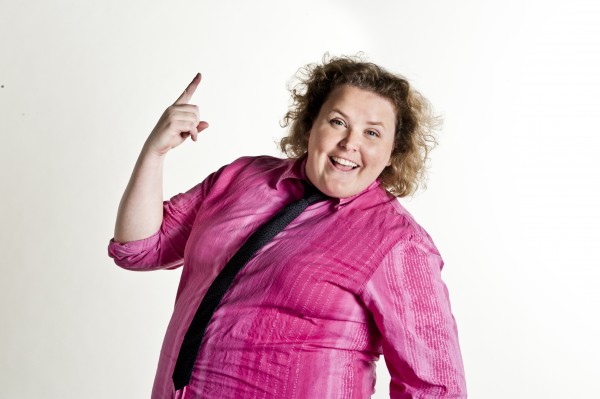 Fortune Feimster
And finally, everybody's favorite, The Welcoming Committee, is taking over a section of Saturday night's comedy show. What's better than that? The fact that Fortune Feimster is the comedian. It doesn't get more lesbian than that. Honestly, I cannot think of anything more lesbian than this event. Thank you, Boston Pride!
Venue: Wilbur Theatre
Where: 246 Tremont St, Boston, MA.
When: Saturday, June 13
Time: 2:00pm – 7:00pm
Tickets: http://bit.ly/1BIWFpQ
With that, we leave you to enjoy the festivities. Make us proud beantown. #WickedProud