Are you ready for #LAPRIDE45!? I know I am. I also know that sometimes it's difficult to feel proud when every guide, article, photo and blog post you see is almost exclusively for the guys. Don't despair, we've done the job of finding THE parties, events and parades that apply to you – the most attractive, funny, intelligent reader we know – in our Ultimate Lesbian Guide to LA Pride 2015!
My favorite thing about Pride in June is that it's not just a day, it's not even a week… it's an entire effin' month! Which means you should probably get ready to party, like, yesterday. So quickly before we head out, Pride roll call:
Sunglasses?  √
Water bottle?  √
Other water bottle?  √
Rainbow suspenders?  √
iPhone (with the HER LA Pride Guide on it)? √ Lez do this, beautiful people!

The Welcoming Committee: LA
Kick Pride week off with the inaugural Los Angeles Guerrilla Queer Bar presented by The Welcoming Committee. They'll be taking over a typically straight establishment with hundreds of LGBTQs on Friday June 5th. It's important to note that this is NOT a protest—it is a party. In fact, it's the only LGBTQ bar takeover that happens simultaneously in 10 cities on the first Friday of every month. Join The Welcoming Committee movement in Los Angeles to get in on all the action. Trust me, it WILL be a good time.
Venue: Super secret location
Where: Los Angles, CA. (join TWC to find out!)
When: Friday, June 5
Time: 9:00pm – 2:00am
FB event: http://on.fb.me/1M57Dvh

Celebrity sighting at LA PRIDE Fest (par for the course)
[Download text="Want to know everything about LA PRIDE 2015? Download HER The Lesbian App to read more awesome posts just like this." url="http://api.weareher.com/m/0151″]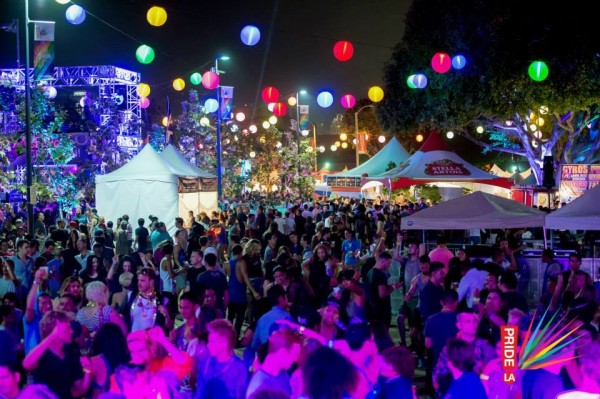 LA PRIDE Fest after dark
The 45th annual LA Pride is bringing back their FREE Friday night celebration, Lavender Menace, which combines a community celebration of women with activism honoring lesbians who have paved the way for today's TLGB community. And to kick off the evening's festivities, LA PRIDE is proud to present the WeHo Dyke March in conjunction with the City Of West Hollywood and the Lesbian Visibility Committee. (Yes, marching!) The annual Dyke March starts inside the Festival and moves its way into the streets of West Hollywood, down Santa Monica Blvd, and then back to the Festival. Nothing like a little roundtrip jaunt with your favorite dykes to walk off that first beer in preparation for the next… five. Am I right?
In addition to the WeHo Dyke March, the LA Pride Festival features a lineup of diverse talent ranging from Grammy Award winning singers to hip-hop heavy weights, pop divas and nostalgic classics. Check out some of the highlights from the 2015 performer announcements below including Main Stage headliners, Latino Carnival entertainment, the all-new VIP Experience and more. Don't forget to get your tickets for Saturday and Sunday before they sell out!
Venue: West Hollywood Park
Where: Los Angeles, CA.
When: Friday, June 12 – Sunday, June 14
Time: specific to event
FB event: http://on.fb.me/1H1tDYz

LA PRIDE Fest entertainment lineup
2015 Entertainment Lineup
Tickets: http://bit.ly/1G8J6qT
I'm not sure if you're seeing what I'm seeing, but this year's entertainment lineup is UHmazing (read: HOTT). Tamar Braxton christens the stage on Friday night, followed by Wilson Phillips and Kesha on Saturday, and Fifth Harmony and Ana Barbara on Sunday night. You can't say #LAPRIDE45 didn't deliver on live entertainment this year.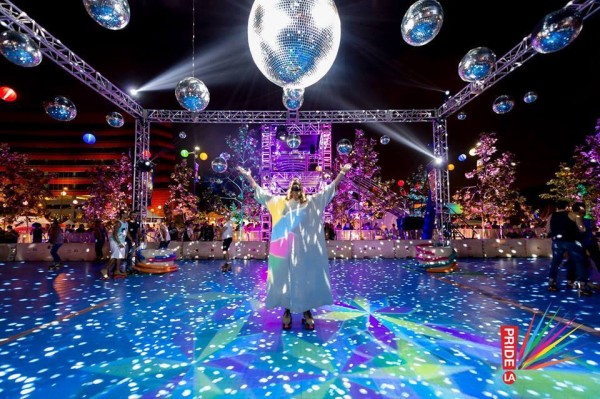 Thunder Ground roller disco
Thunder Ground
Tickets: http://on.fb.me/1IioEUX
AND the coolest thing ever, your VIP tickets include access to – what I think should be a staple at every Pride Fest – The Thunder Ground VIP Roller Rink & Disco. Open all weekend! If you're not freaking out about the awesomeness of a roller rink + pride, I don't know what would satisfy you.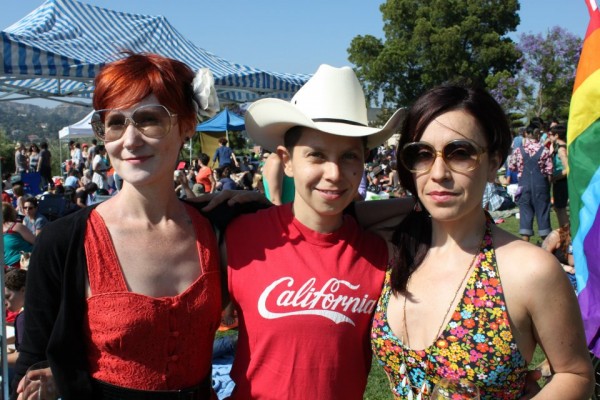 Dyke Day LA
It's everybody's favorite (and only) FREE, all-ages, inclusive Dyke event! And it's back for the 8th year in a row bringing you queer love, music and women. Lots of women. Dyke Day LA has a shiny new location at Elysian Park, Section 9 on Solano Canyon Dr. with more space, more shade and MORE parking for all! Expect killer DJs, free swag, HOT women (literally, they'll be sweating… it's LA in June), charcoal grills, picnic tables, and more. It's fun for the whole family. Seriously, bring your kids.
Venue: Elysian Park (near Dodger Stadium)
Where: 825 Academy Road, Los Angeles, CA.
When: Saturday, June 13
Time: 12:00pm – 6:00pm
FB event: http://on.fb.me/1RJRvmF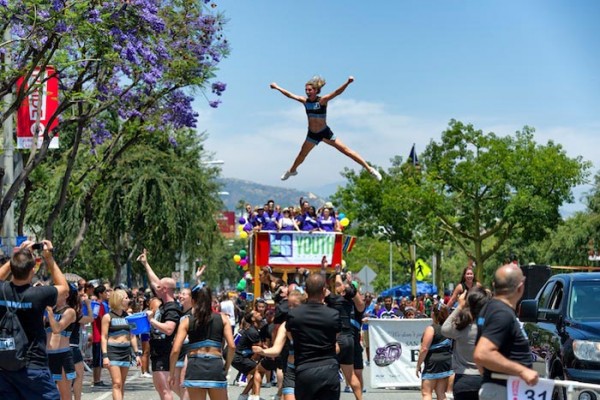 LA Pride Parade (and cheerleaders)
Here we are again. The event we've all been waiting for – the annual Pride Parade. Even though we love the parties and the day drinking and the remarkably well dressed (barely dressed) women, we all know what happens when the parade rolls around. Tears. Or at the very least, LOTS of feels.
The Christopher Street West Association, Inc. is a non-profit service organization within the Transgender, Lesbian, Gay, and Bisexual community, composed of volunteers committed to the goals of human rights, education, outreach, and better understanding within our community, as well as the non-TLGB community. They are responsible for producing the parade and the LA TLGB Festival in WeHo every year to further their incredible goal. Thank you, Christopher Street West!
(click map)
Venue: see map
Where: West Hollywood, CA.
When: Sunday, June 14
Time: 10:30am
FB event: http://on.fb.me/1H1tDYz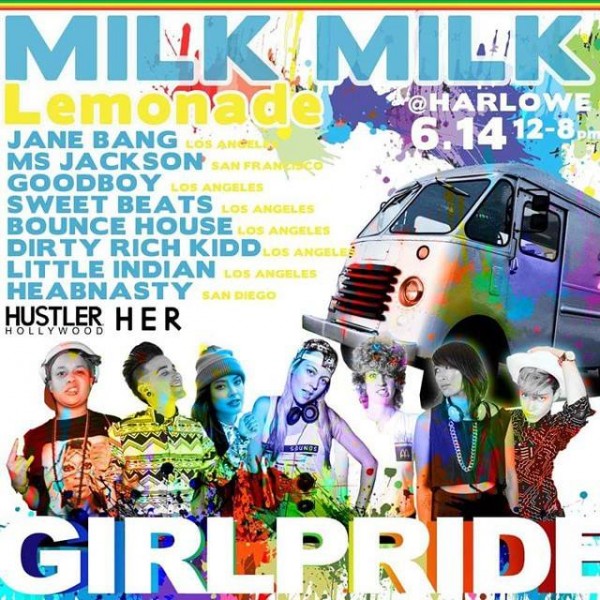 Milk Milk Lemonade's GIRL Pride 2015
*official HER 2015 Pride Partner
MML is gifting you your very own GIRL Pride. Kicking off right after the parade, this epic afternoon party has two outdoor spaces, an indoor dance floor, the SweetBeats truck!, Drag King contests, HUSTLER toy giveaways, a Pride photo booth, and a ridiculous lineup of DJs. After a long, enjoyable celebration, you deserve the very best to close out your Pride week… and, good news, you'll get it all day at Harlowe on June 14th!
Venue: Harlowe
Where: 7321 Santa Monica Blvd, West Hollywood, CA.
When: Sunday, June 14
Time: 12:00pm – 8:00pm
FB event: http://on.fb.me/1KEjWOH
Tickets: http://bit.ly/1FOFgRH
We can't wait to see the selfies that come out of LA Pride week – you sexy, sexy people. Enjoy the festivities! #WeAreLAPride #WeAreHER