Last fall, I created the Queer Dating 101 series to share my own frustrations, adventures, and learnings from dating during COVID. By no means am I an expert as I only recently came out later in life, but what I lack in experience, I make up for in curiosity, nerdiness, and a passion for extreme empiricism (which is what this column is about!).
I am excited to reprise and amp up Queer Dating 101 this year in collaboration with Autostraddle, the mind-blowing website where I learned that I was a switch and what that meant!
The Queer Dating 101 series is designed to take you through pre-swiping apps through the relationship talk:
ICYMI Recap…
Read below for key takeaways and ideas to try at home
Check out the Event Landing Page for key links and resources
Watch all the session recordings!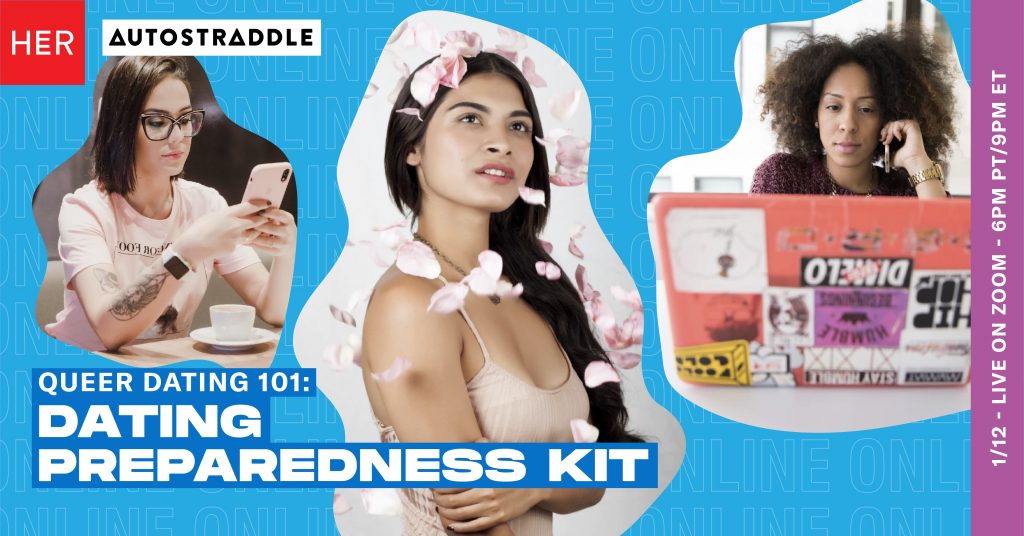 KEY TAKEAWAYS:
Mindset tips
1+1>2: know and satisfy your own needs
Focus on the abundance of ways to get the feelz you want
Don't swipe while "horngry" (e.g., lonely, sad, desperate)
Cultivate a growth mindset: you don't have to be any good at any of this…YET
Rejection is good – you want a Hell Yes or Hell No! The "maybe" is pure Hell!
Identify your red and green flags before you start swiping
Choose the RIGHT pics for your profile
Best pic first
1+ face, 1+ full-body picture
Natural lighting
Don'ts: sunglasses, hats, selfies, people who look like potential significant others
Template to write a killer bio
What do you have to offer? 3 self themes/features
What are you looking for? 2-3 green flags
A little special sum'n sum'n to make you stand out! (e.g., humor, shock, masterful use of emojis?)
TRY THIS AT HOME:
Write down your list of red and green flags
Update your profile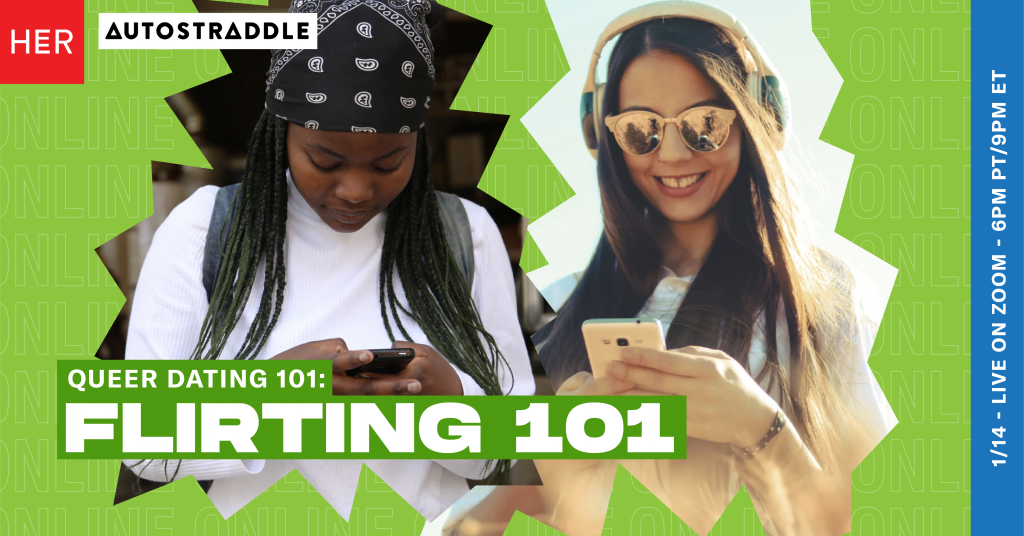 KEY TAKEAWAYS:
Rejection is good.
REJECTION IS NOT ABOUT YOU or THEM, but the FIT
How to handle rejection:

Acknowledge feelings/thoughts
Practice self-care / self-compassion
Reflect on learnings
Watch your negative self talk

Rejection saves you from wasting time and energy on the wrong person.
Consistently Marie Kondo your dating apps
Truth bombs from Autostraddle's Shelli, Drew, and Dani (check out the video recording for more!):
Don't be concerned about what others think about you. Focus on what you feel about yourself (being a bad bitch!) – Shelli
Be your authentic self and lead with your passions so others know what you care about and you can find the right match – Dani
Get less attached to outcomes regardless of your ultimate goals so you can enjoy the experiences on the way – Drew
TRY THIS AT HOME:
Marie Kondo your dating apps: clear out stale matches
Try direct communication with someone in your life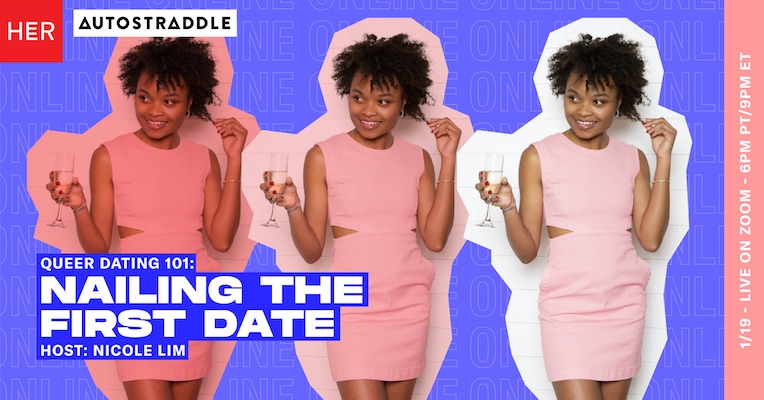 KEY TAKEAWAYS:
Own your needs and boundaries
No such thing as being too "needy": Every one has needs and boundaries in all relationships
It's about resourcefully satisfying your own needs
Okay to ask others for help but not to expect others to satisfy your needs
How to ask others for help

Understand and acknowledge your needs without judgment
State your needs and invite (not demand) them to help
Graciously accept their response and follow through
Planning the date
Check in on boundaries and expectations:
Offer options for the first date
Have an activity planned irl or on zoom
Prep to be the best version of yourself
Physical prep
Exercise / masturbate
Shower, groom / cut your nails
Dress to impress (including below your waist even if on video)
Drink a little (if you'd like and not driving)
Mental and emotional prep
Review their and your dating profiles, social media, texts
Review your boundaries
Prepare conversation topics
Play your pump song
Dance with jitters (literally and figuratively)
Manage your expectations
Arrive on time
Most importantly, remember to enjoy yourself and the experience!
On the date
Greeting:

Be warm
Okay to acknowledge awkwardness or nervousness
Start with a compliment (genuine and personal)
Review your boundaries and theirs (esp. irl with covid)

Getting to know each and getting down the funnel

Actively listen and ask follow-up questions
Look into their eyes and use their name

Put your phone away out of sight
Embrace silences

Share info about yourself

Create a positive first impression: more green flags than red flags
Keep it light, smile, and have fun

Express attraction early and often (if you feel it)
End the date strong

Thank for a good time
Express interest or make plans for the next one if it feels mutual
Text later with an inside joke
TRY THIS AT HOME:
Shoot your shot and plan a fun first date!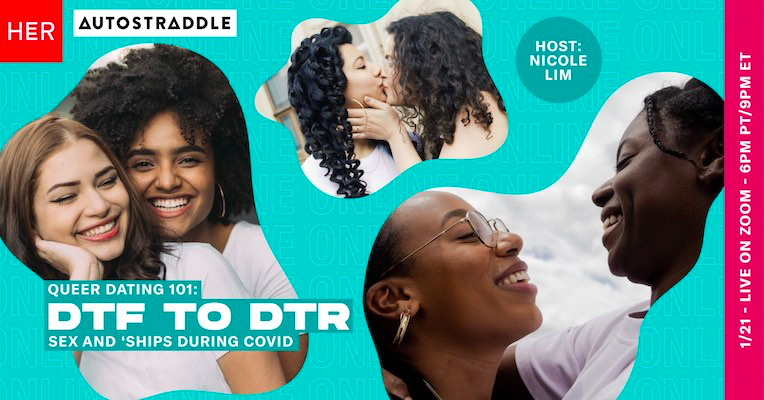 Get sage relationship advice from LGBTQ+ relationship coach, Kita Adams, as she breaks down two milestone conversations: having sex for the first time with a new partner and defining the relationship!
---
Nicole (she/her) is the editor of the HER newsletter and a queer events producer (creator of Queer Dating 101), executive/life/dating coach, avid shark diver, and author of the upcoming memoir, The No Plan Plan. In this column, Out on a Lim, she focuses on intentionally "learning things the hard way" by trying anything twice so you don't have to (unless you want to!). Check out Nicole on IG|web|newsletter, and share your experiences or ideas for what to explore next! 🤙 🌈