We asked you to share your stories about how you met your friend, bff, or girlfriend on HER and received so many awesome ones! Kamille & Abby were one of the first two to share their story with us about how their relationship began on HER.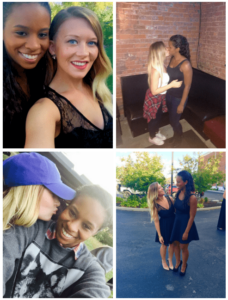 Abby: "Kamille and I met through the app HER. We both liked one another's photos and I soon messaged her afterward (how could I not?). From talking I could tell we had a lot in common and how easy the flow of conversation was. A week later of text messages and phone calls, we finally met for dinner at a nearby restaurant overlooking Cincinnati. During the entire meal I could barely speak without stuttering. She was absolutely beautiful and had me more nervous than I expected. Thank goodness she found it adorable and we've been together ever since."  
Kamille: "I just graduated from Xavier University in Cincinnati, OH. Living in Cincinnati was very difficult for me because I was thousands of miles from home. The day I met Abby, I no longer felt alone. She was obviously my better half. She completes me. I am currently in Mississippi taking cyber space classes for the United States Air Force. Abby continues to work in Cincinnati. Although I am over 600 miles from Abby, we continue to maintain a strong and loving relationship. Abby supported me as I came out to my family. She's been my biggest support since the day I met her. We plan to spend each holiday together and we video chat, call, and text everyday. Once I finish classes in Mississippi our goal is to move to my home city and her dream city, Los Angeles. I cannot wait to see what the future holds for us. "
Email us pictures of you two (or your group) and tell us how you met.
The best ones will be featured!
Send us the story of how you met and photos to: hello@weareher.com
You gals kissing, partying, hugging, we want can't wait to see it all!