I am a Von Kiss fan! Just putting it out there. It's so easy to love this LA-based DJ and producer. She has the ability to move the crowd at parties all around the world, she has a heart of gold, and her hair's so green you'll need stunna shades.
The first time I heard Von Kiss was at one of my favorite San Francisco dance parties, Cockblock, in 2013. She had her own sound – her own unique style. I was so intrigued that I went up to the DJ booth to introduce myself; I know it's super cheesy, but I did it. She was very kind and super friendly so I immediately started following her career. Her confidence and power has been so inspiring to me.
I've had the pleasure of spinning with her at parties in San Francisco, and she's always made me want to be a better DJ. I want to be like her… when I grow up. HA. So when I got the opportunity to start this new column for HER to feature incredible DJs from all over the world, Von Kiss was at the top of my list.
We sat down to talk about DJing, her wife and what it's like to be her.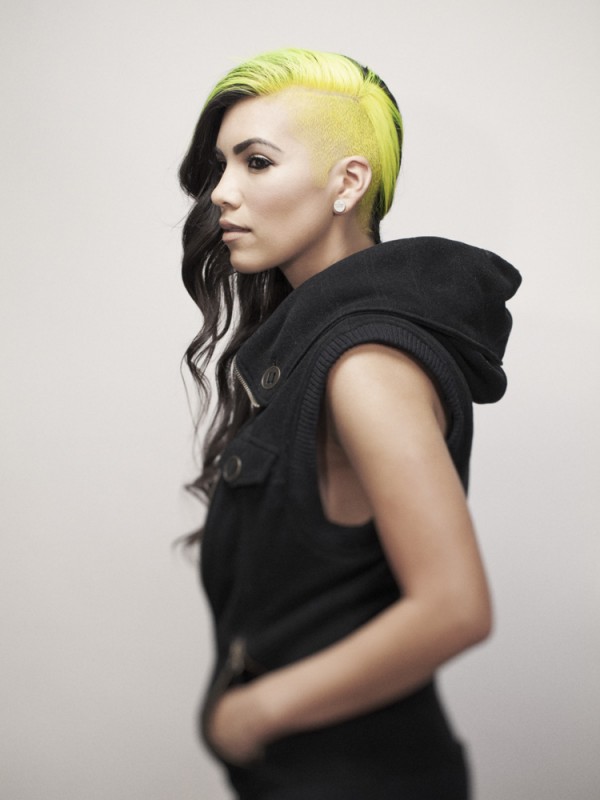 Who is Von Kiss and what makes you HER?
I am the one and only Von Kiss. I would say that my kind heart is what truly makes me amazing. I wake up with a smile on my face every day and happiness in my heart that I want to share with everyone. And when I can make people turn up or have a great night while I'm doing what I love for a living… then I feel like I'm doing something right.
So you're queer. When did you come out?
I came out when I had my first girlfriend in college. The first person I told was my best friend Rosie. She is truly like a sister to me. Then I started to tell other friends and family… the last of which were my grandparents. They were the hardest for me. I was with my Ex for about 3 years before I finally gathered up the nerve to tell them, and when I did… they were like "We kinda already knew," LOL! Oh man, it was such a huge weight lifted from my shoulders. I was so relieved. Luckily for me my whole family has been very supportive of my orientation.
[Download text="Want to make awesome friends that also love dance music and DJs? Download HER The Lesbian App to meet them." url="http://api.weareher.com/g/0138″]
You've been DJing all over the country. Which city or party is your absolute fave?
So in all my years of DJing and all of the venues I've played, I discovered my ABSOLUTE favorite party to play just last month. It's the Havoc party at The Yost Theater in Santa Ana, hands down. The energy was next level!!! That crowd had me feeling so hype! I was like… this is how every single one of my shows should be.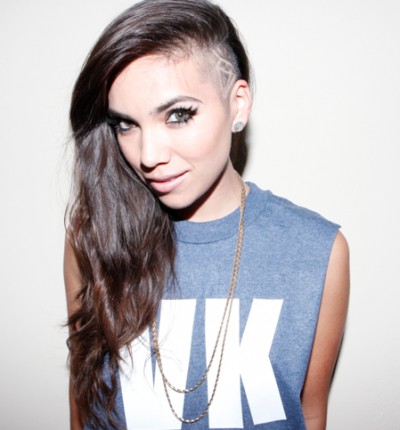 Being a female DJ is tough. How do you positively impact the gender divide in the DJ business?
By not acknowledging it. When I think about myself, I don't see myself as a "female" DJ. I see myself as a DJ. Guys don't call themselves "Guy DJs," so why should I add an extra label? I honestly haven't felt much discrimination or many limitations throughout my DJ career. Of course I've played the all-female lineup parties, but I've played some amazing parties with male DJs too. I think that the easiest way to get rid of this divide is to just focus on the DJing and let our talents speak for themselves.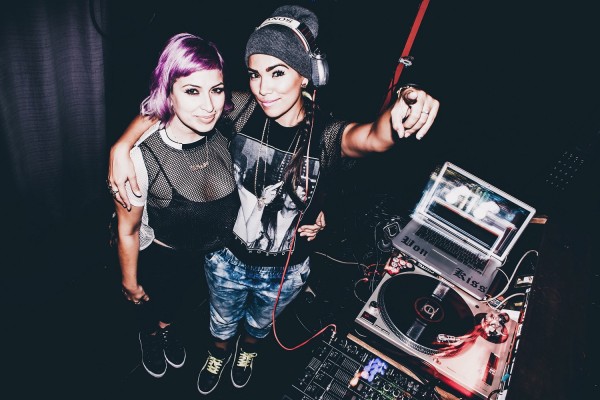 Your wife Valerie Vonprisk is a very talented and successful makeup artist. When did you get married?
Aww, my angel! We got married in 2008 back when gay marriage was legalized in California for just a few months. I knew within the first year of dating Valerie that she was "The One". When Prop 8 surfaced, I knew that I didn't want to risk my chance of marrying the woman of my dreams, so I told Val that we should get married. To which she replied "Well, I am a lady and this is not a business arrangement so you better propose to me properly with a ring". So I did! I found out what type of ring she wanted and had my jeweler make it on rush order so that I could propose to her on an upcoming trip to San Francisco. I bought some champagne and popped the question outside of the Palace of Fine Arts. We made it official in San Diego on October 30, 2008.
What was the most attractive thing about Valerie when you first met her?
I am not gonna lie, I was floored, stunned and completely captivated by Valerie's beauty. I know it was love at first sight. It was like a scene right out of a movie where… the minute I laid eyes upon her… everything else ceased to exist. I didn't want to take my eyes off of her. I was enamored.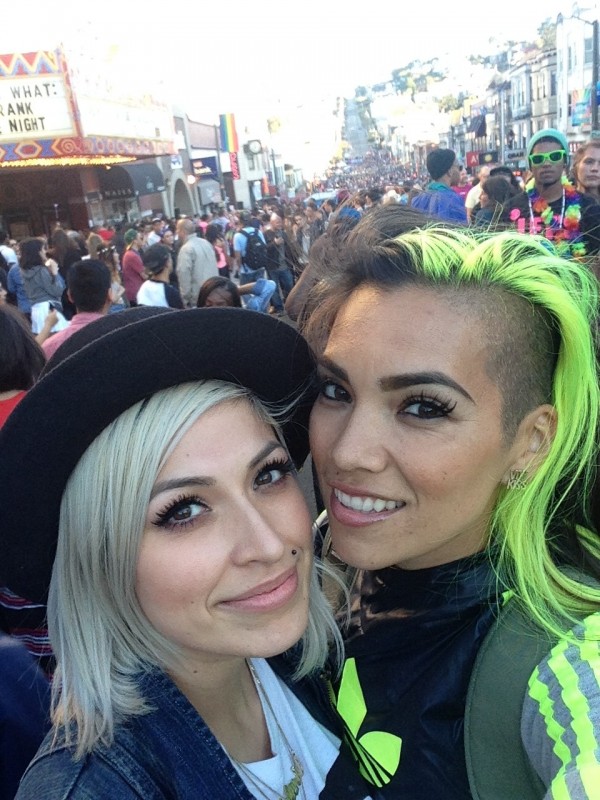 Describe the best date you've ever been on with your wife? What made it special?
Oh man, we've been blessed with so many amazing dates that it's hard to pick just one, but I would say that it was our first night out in Barcelona. Neither of us had been to Spain and Barcelona is just beautiful! It is such a romantic city, but my favorite part was going out to the nightclub with my wife and dancing, drinking, laughing… just having a great time together. It was perfect.
What are your all-time favorite songs to spin? Why?
Shiiiiiiiit this is a tough one too. There are so many! Okay, let me break it down like this: I play for so many different types of parties and crowds, but when I get to play a festival style set, my favorite song to play is C.U.B.A. (Frankie Sanchez and Instant Party! Remix). That song on a bangin' bass heavy sound system is pure gold. Now when I am winding the party down and I need some solid slow jams, the 2 winners are Pony (Ginuwine) and One More Chance (Biggie). Classics! And then there are some other hits that I love to play like Put Cha Back In It (DJ Sliink) – cuz I love me some Jersey Club – and if I'm gonna drop some EDM hypeness, Badman (Autoerotique & Max Styler) is a good one along with Bomboclat (4B), Get Loose (Tiesto Remix), and We Like to Party (Showtek). Seriously, the list goes on and onnn.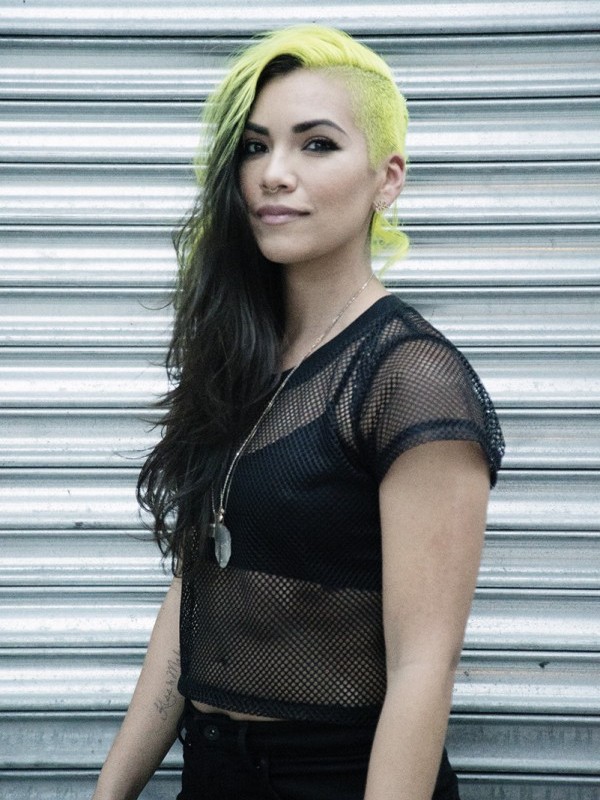 Von Kiss is working on her first official EP, which should be released this year. With a rapidly growing fan base, she is sure to be playing in a city near you soon! You can follow her on Facebook, Soundcloud, Instagram, and Twitter. Check out her website for tour dates and music releases.