I recently emerged from a challenging few months of MRIs, ultrasounds, and CT scans to find out that two mysterious lumps I discovered this year were thankfully benign. Nothing like a global pandemic and cancer scare to make you existentially reflect on life and even appreciate the privilege of aging (despite my daily antagonism towards gravity and hormones). I was also digging my leaner pandemic body, thanks to a mostly plant-based diet, less drinking / no social life, and lots of hiking. I decided I wanted to literally capture this beautiful moment in time with what else, but naughty photos!!!
I'd heard about boudoir photography decades ago as something brides typically gifted their husbands for their wedding. It seemed a little archaic and third date-y to give lingerie pics, but hey, it has a French name so it must be fancy!
My interest in boudoir photos was less about someone else and more about being hot for me. Are thirst traps for yourself a feminist act? Absolutely. Cue Lizzo's Soulmate! Womxn are not just physical beauty–we have so many other qualities–but embracing our physical beauty allows us to access another source of our wisdom and power.
Sure, I was looking forward to some kickass Tinder pics, but I was also excited about exploring gender expression, sexuality, and body positivity on my terms. When I was straight, I felt like I wasn't feminine enough, and when I came out a few years ago, I felt like I wasn't masculine enough. (I could write at least a dozen articles on the conflation of gender expression and sexuality, but this one is about boudoir, baby!)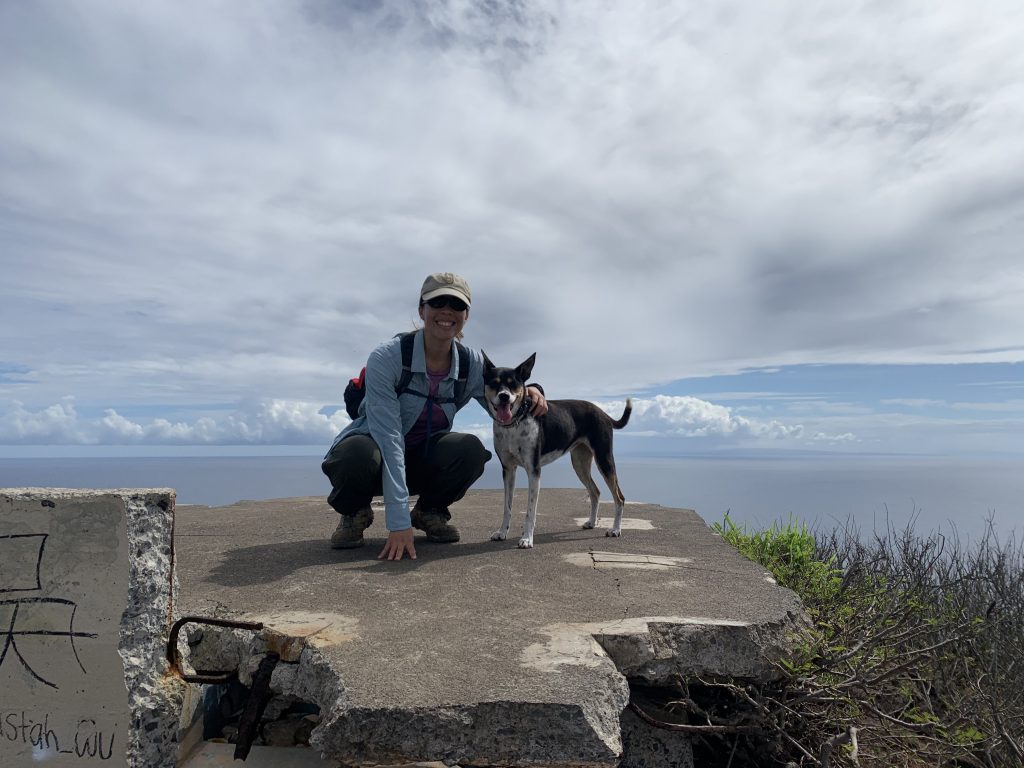 Through the years, I've settled into a style that can at best be called "functional chic." I normally rock REI zip-off pants and buckle the chest strap on my backpack. I have a few "go-to" date outfits–half of them involve plaid, the other half include overalls or camo print–so I was excited to explore the high femme aspects of traditional boudoir.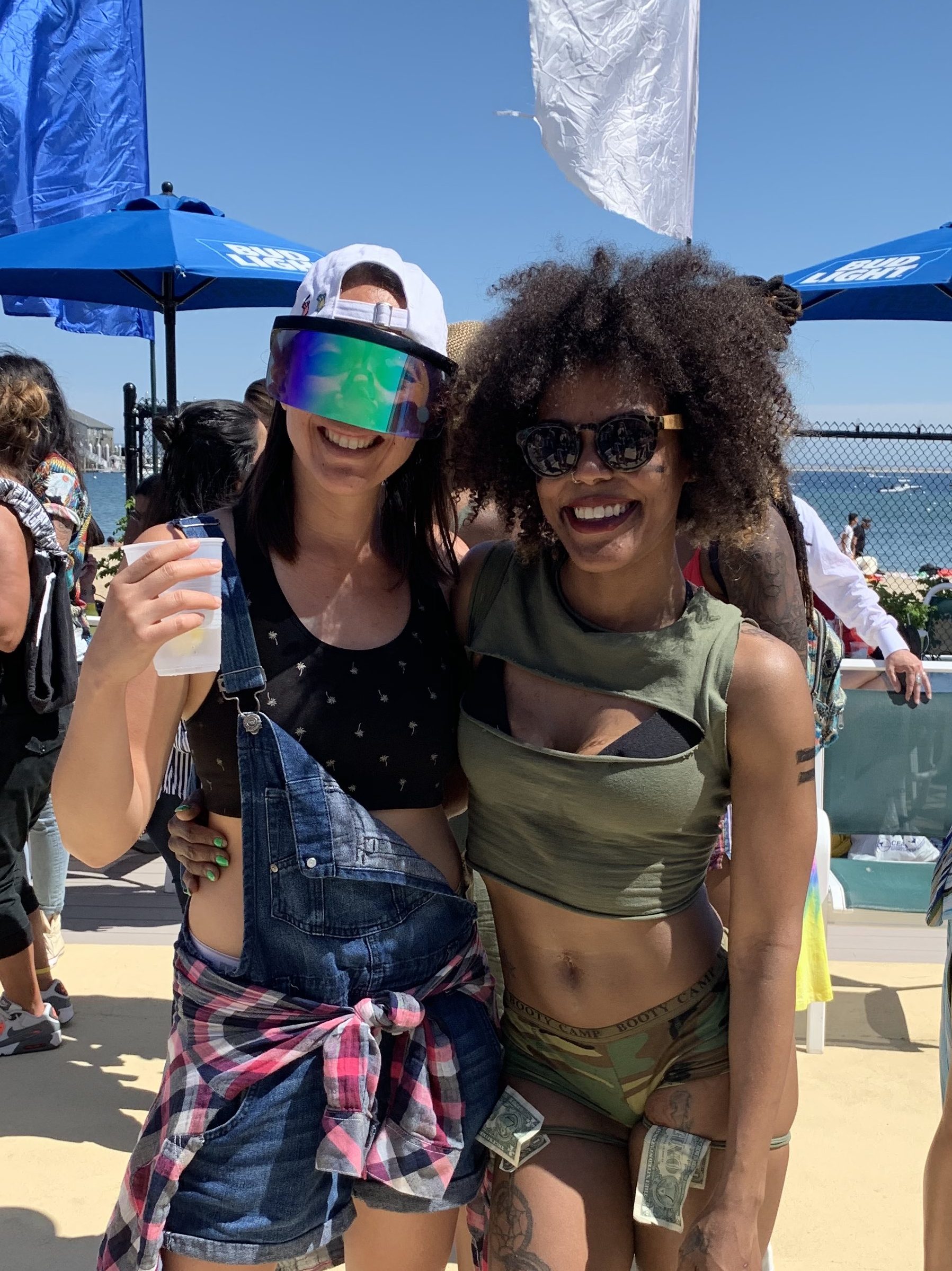 OK, I'M DOWN FOR SEXY PICS…NOW WHAT?!
I knew I needed to find a photographer and basically everything else for a sexy shoot. I decided to reach out to a girl I had met at the local queer womxn Facebook group I run. Susie Scorpio is the gorgeous and vivacious director of The Aphrodisiacs, Honolulu-based neo-burlesque artists celebrating the full feminine experience.
I 100% asked the right person, because she not only knew Alden Fukushima, a trustworthy photographer that worked with her group, but could also help me with make up, hair, accessories, and direction in a welcoming, safe space (her apartment!). Within a few days, we had arranged a shoot date two weeks later. Adding even more warm fuzzies to the collaboration, I agreed to produce a Sex and the City-like interview segment for her next virtual burlesque show.
---
Like most womxn, I feel self-conscious about parts of my body and wished the shoot was in the morning when my stomach was much flatter, but alas, we needed nighttime darkness. Actually, what I was most anxious about was my facial expression. Smizing comes naturally to some people, but I am not one of those people. Once a camera comes out, I'm incapable of any look other than full-on grin! I was hoping that watching all those seasons of Tyra Banks on America's Next Top Model would somehow pay off years later. I had a sinking fear that I was more "commercial" than "editorial" high fashion.
I was also concerned about covid, so we kept the group small: Susie Scorpio, who I knew was pretty careful in her daily life, and Alden, the photographer, who wore a mask during the shoot. We also kept the sliding door open and fan on so there was good air circulation in the room.
GO TIME!
On the agreed upon day, I nervously arrived at Susie Scorpio's adorable one-bedroom she shares with her partner. We moved the couch, and I was immediately given red polish to paint my nails as the photographer was coming in an hour. I could only paint my toes, since I'm horrible at painting fingers (finger painting I'm awesome at!).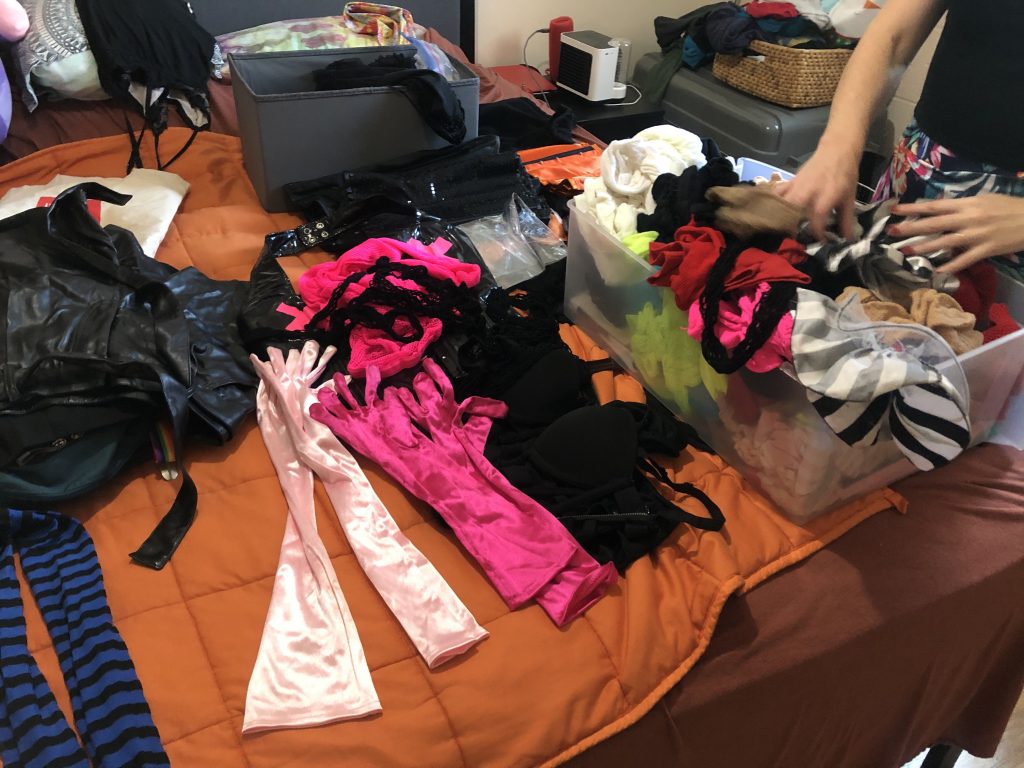 Susie Scorpio had overflowing drawers of bras, corsets, thongs, gloves, and jewelry, accumulated from years of donated costumes. I felt like a part of burlesque history. I went with a strappy black bra, a thong with a mesh trim, a black corset with garter belts (my Victorian dream since I've never worn them before) and long fishnet stockings. 
As Susie Scorpio applied smoky eye shadow, I realized we were missing a vital step: "Aren't we supposed to be drinking alcohol?!" Cue a whiskey shot that softened my nerves and warmed my soul, necessary since I was sitting in my bra and undies. I also learned that fake eye lashes and red lipstick are a must.
Throughout the process, Susie Scorpio checked in on how well we were toeing the fine line between the edge of my sexuality comfort zone and being totally not me. Her guidance was great: "This won't feel like every day Nicole. You get to explore deeply into the high femme version of yourself. What's your burlesque stage name?" Though a little banal, I went with Nikita, an affectionate Spanish play on my nickname and also a badass ass-assin.
BOUDOIR TWISTER
The shoot was super empowering from choosing outfits to trying different poses to being sexy without feeling sexualized or intimidated. It could have been awkward shooting with a cis male photographer (this is why I have only had female gynecologists!), but Alden was super respectful, professional, and only made physical adjustments with consent. Meanwhile, Peanut, the canine lighting assistant, was a little less professional, lurking in frame and licking my salty toes until he became bored and fell asleep on the job.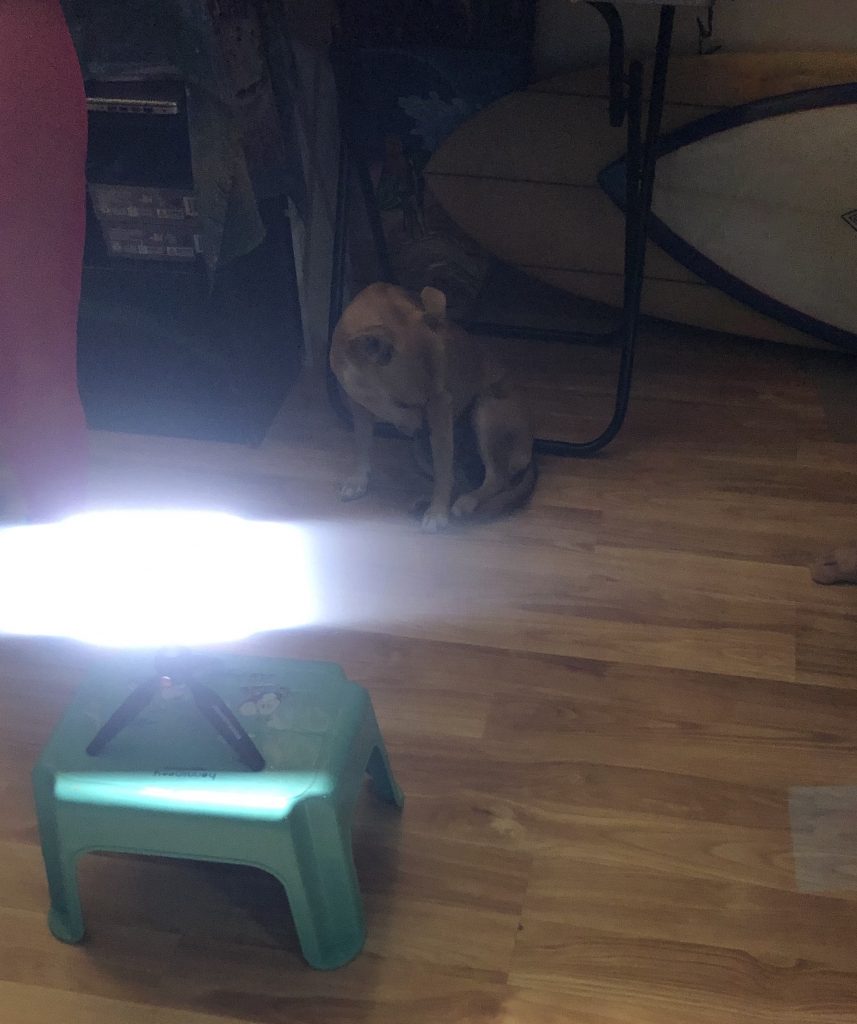 In hindsight, I should have stretched before we started. No, make that six months of backbend yoga classes and core work. As Alden sagely shared, "If it's uncomfortable, awkward, and strained, then you're getting the right shot." I must have gotten many right shots then.
We started with some pretty advanced yoga poses: flying bow pose balanced on a stool, intense boat pose (come on, core!), myriad versions of camel (while trying to avoid camel toe), and a lot of uddiyana bandha (aka sucking in my gut). These contortions left me with sweat dripping down my fake eye lashes and a newfound respect for models holding any pose beyond 10 seconds.
It was like a complex game of Simon Says where I could never win due to lack of comprehension and/or flexibility. Here were some of my favorite posing directions that taxed my body as much as my mind:
"Tip toe on your right foot. Pop your right butt. Arch your back. Belly button to spine. Look like you're pulling the stocking up, but also look up playfully with your chin down. Make your neck long." (I might need a diagram.)
"Pretend like you fell asleep with your legs up against the wall. Point your feet. Ok, good. Now, relax your toes…but keep your feet pointed." (I couldn't think of a more torturous way to sleep.)
"Half smile. Half smirk." I responded to this direction by clenching my jaws together and giving my sexiest 1st grade school portrait grin.
"1% more lively!" (What?!)
As I was in a particularly painful back bend: "Be playful. Laugh – ha ha ha ha." Ah, the laugh cry. I perfected this in 2020.
"Soften your eyes." I tried to smize by making my "bedroom eyes." When I saw the shot, I cringed: "Yikes! Is that what I look like in bed?"
When I'd grimace in pain or confusion, Alden would be like "Perfect! Hold that look right there."
Susie Scorpio gave great direction and was a natural poser (she def would have made it to the makeover round on ANTM) but I felt absolutely clunky. I discovered that it was possible for me to be neither "commercial" nor "editorial!"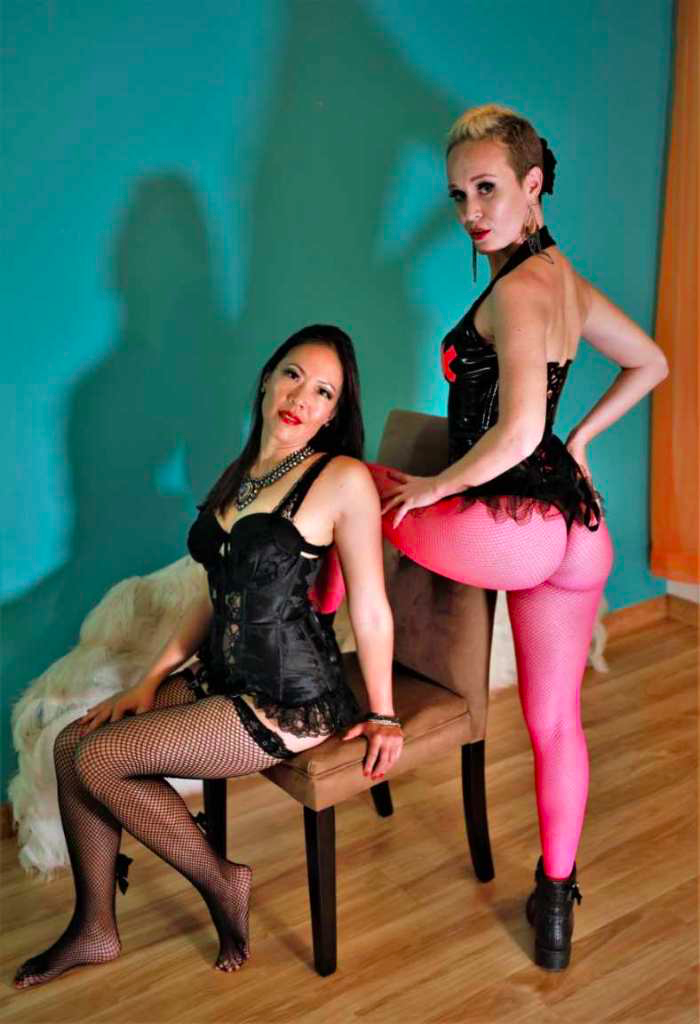 THIRST TRAPPING YOURSELF
As the evening progressed, I really started to dig it and feel empowered as Alden would show me some of the photos. I couldn't recognize the hottie I was looking at! My awkward half-smiles were translating into smoke shows on the camera. By the end, I was smizing my way through my fake lashes and fucking loving it.
In some ways, photography magnified the imperfections that I fret about on the daily–belly fat, butt stretch marks, fishnet tears (okay, I don't wear fishnets on the regular), and thinning hair. As we got deeper into the shoot, I learned to roll with the baby hairs, worry less about what things looked like, and focus on feeling sexy as I sweated through the tangled poses of boudoir Twister. And when I looked in the mirror, I could see a hotter, more confident version of myself, and I realized that Nikita was always with me and just needed to be summoned to smize the hell out of the world.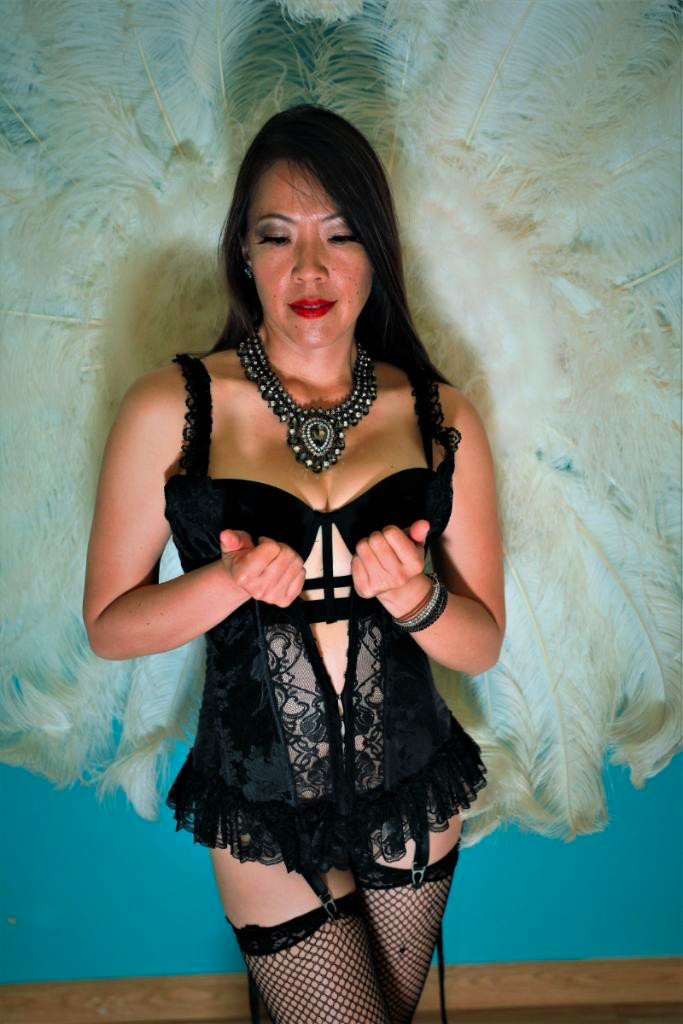 ---
TRY THIS AT HOME: Slip into your hottest outfit, set up soft front-lighting, and take some naughty selfies or ask someone in your quarantine pod to help you. The most important part is to enjoy this sexy sexperience for yourself and get thirsty for your own thirst trap!
---
Nicole (she/her) is the editor of the HER newsletter and a queer events producer (creator of Queer Dating 101), executive/life/dating coach, avid shark diver, and author of the upcoming memoir, The No Plan Plan. In this column, Out on a Lim, she focuses on intentionally "learning things the hard way" by trying anything twice so you don't have to (unless you want to!). Check out Nicole on IG|web|newsletter, and share your experiences or ideas for what to explore next! 🤙 🌈