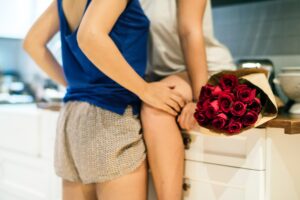 For many this time of year is known as "cuffing season," according to Love Successfully, the Cuffing Season Schedule goes as follows:
Scouting (looking for candidates): Aug 1-31
Drafting (pick your top candidates): Sep 1-30
Tryouts (go on many, many first dates): Oct 1-31
Pre-season (get more serious with one or two prospects): Nov 1-30
Cuffing Season (pick your best match and be exclusive for the holidays): Dec 1-Jan 15
Playoffs (survive the holidays & consider long-term potential): Jan 16-Feb 13
Championship Game (offer official BF/GF status and celebrate Valentine's day, if that's your thing): February 14
Focusing on the holiday season, now is the perfect time of year to start deliberation on whether or not you and your significant other are ready to take that next step. If there's a seven step checklist for, "til spring do us part," you should have a list checked before cuffing your partner for life. Lucky for you, we're giving you an early gift this holiday, in the form of four major categories to consider before you and your partner consider marriage.
How you each respond to Stress and Resolve Conflict
With the pace and stress of the world today it's crucial that you and your partner understand the different ways each of you handle stress. Some people have the tendency to draw inwards when they're feeling anxious or upset. While others may lash out on the ones closest to them, revealing there is more to work on together than you might have thought. Loving someone means elevating their best traits, and accepting their worst ones. There are countless reasons why disagreements will happen and it's a normal process of being in a relationship. It's how times of high-stress and arguments are handled that determine the longevity of any relationship. Communication is key, but being totally honest with yourself, you know that it's nearly impossible to keep a level head and communicate effectively in the heat of the moment. Effective communication is a skill that takes practice. The point of this tip is to evaluate how you and your significant other communicate under pressure. If your skills aren't as developed as they could be, are you both willing to put in the time and effort to find ways to always stay on the same team?
Living Habits and preferred Household Duties  
The idea of moving in with your significant other can leave you with heart eyes dreaming of rose petals on the bed, strawberries by your non-existent fireplace, and long discussions of…whose turn it is to take out the trash, right? Probably not. While dividing chores amongst the two of you will eventually happen naturally, but not without an argument of who took out the trash last week and who forgot to get toilet paper. It's better to take time to consider these realities in order to get ahead of the mundane tasks. Make the transition to cohabitation easier on both of you by taking the time to discuss chores you each like to handle. Maybe you hate vacuuming but never minded doing the dishes. Make a loose inventory of what each of you is in charge in of handling to make the household run smoothly. Keeping light of the responsibilities will allow there to be room for humor instead of tension.
The Money Talk
One of the biggest mistakes countless couples make when moving in together is not discussing the reality of the financial standings. Before discussing where the money for rent should be deposited, have a honest and open discussion covering your debt, bills, spending habits, and goals. "No one has the right answer to what your money strategy should be," Vivian Jacobs a licenced marriage and family therapist told The Knot. "You just have to live within your budget, figure out what works for you, be reasonable, and communicate," Jacobs says. One of the toughest areas to really open up about is credit cards, paying off debt, and building up your credit history. After you have this talk and create a clear financial outline for your relationship you'll start to see the benefits over time. For example, after reviewing and making changes to your current credit situation you'll find more rewarding credit card options that offer cash back or greater travel reward offers. In addition more funding will be available for future big purchases, such as putting money down for a house, a new car, or even preparing for your wedding day.
There's a Difference between a Wedding and Marriage 
Anyone can get caught up in the idea of a fairytale wedding day and forget that the actual ceremony only lasts a day, while the marriage is meant to last a lifetime. While the wedding celebrates two lives joining together, once the day ends it's every day that follows that makes up the true marriage. If you read through the previous advice and realized you had a few things to work on, take it slow this cuffing/holiday season to make it a point to start the necessary conversations you and your partner need to move your relationship in the right direction. There's no rush if you want your happily ever-after to be forever.