2014 was a fantastic year for LGBT cinema. Between movies like Matthew Warchus's Pride, Morten Tyldum's The Imitation Game, and Ira Sachs's Love is Strange, last year proved that stories about LGBTs are not only powerful, they are profitable. Despite this success, there is still one problem with last year's LGBT cinematic offerings: where them girls at!?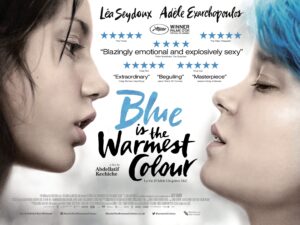 While there is not a complete void of lesbian cinema on offer to us, films with compelling lesbian characters in interesting, plot-driven stories seem few and far between. The few that do check all of these boxes are often made by men – Blue Is the Warmest Colour, anyone? – and the films that are made by queer women rarely receive the commercial or critical acclaim they deserve.
In television, shows like Lost Girl, The L Word, Lip Service, Orphan Black, Last Tango in Hallifax, Banana and Orange is the New Black are leading the way in providing us with queer female characters we want to love, hate, hook up with and U-Haul for the long-term (I'm looking at you Alex Vause). Film, on the other hand, seems to be lagging somewhat and I for one am dying to see more films like Lisa Cholodenko's The Kids Are All Right, Stacie Passon's Concussion, Lisa Gornick's Do I love You?, and Kanchi Wichmann's Break My Fall. In short, let's have more films about queer women, made by queer women.
This year from March 19th to March 25th the BFI will be hosting its annual LGBT film festival, BFI FLARE in London. After a year of male-dominated films in 2014, hopefully this year will bring a host of female-driven queer films to the silver screen and with it bring into the spotlight an entire generation of kickass queer female actors, writers, directors and producers.
We all know the talent is out there, but the glass ceiling has yet to be broken for women filmmakers. In an industry where money talks, there is no doubt that our cinematic choices will only change depending on where we spend our money and which shows we choose to sit down and watch. This is pretty much the excuse you've been looking for to justify your lingering Skins Naomily obsession several years after the fact. You're welcome.
So let's fangirl to our hearts' content and celebrate all the queer women in front of and behind the cameras – we need to see more of them! Here's to 2015 being the year of the queer woman at the movies and on TV. We'll get there eventually, but just to be safe I'll continue to work on becoming the lesbian Nora Ephron.