I couldn't be more thrilled to introduce the first inspirational woman in our new series HER Highlight, Whitney Day. I sat down with Whitney to talk lesbians, dating, the gay club scene and straddling both coasts as an up-and-coming celesbian DJ/Producer. Check out what she had to say in our Q&A below.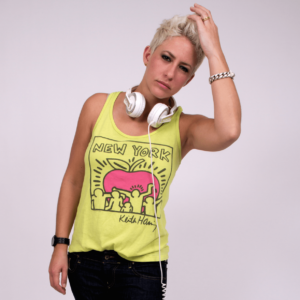 Q. When did you come out? How do you identify?
A. I was 15 years old when I came out. I've always identified as a lesbian, but queer, gay, lgbt, all work for me!
Q. Tell us about your first experience in the lesbian club scene.
A. As a party-goer, I was probably 16 or 17, I used to walk down (fake ID in hand) to a bar called Starlight on avenue A in the east village. It doesn't exist anymore, but it was a Sunday night party in an intimate space. I'm sure I must have stuck out like a soar thumb as the youngest person in the room, but I always had a good time. Around the same time my friends and I went to check out a party called 'girlnation,' which still operates today. That was the first 'clubby' scene with dance music, bartenders on the bar – pouring shots in girls' mouths, etc. It was always a crazy time!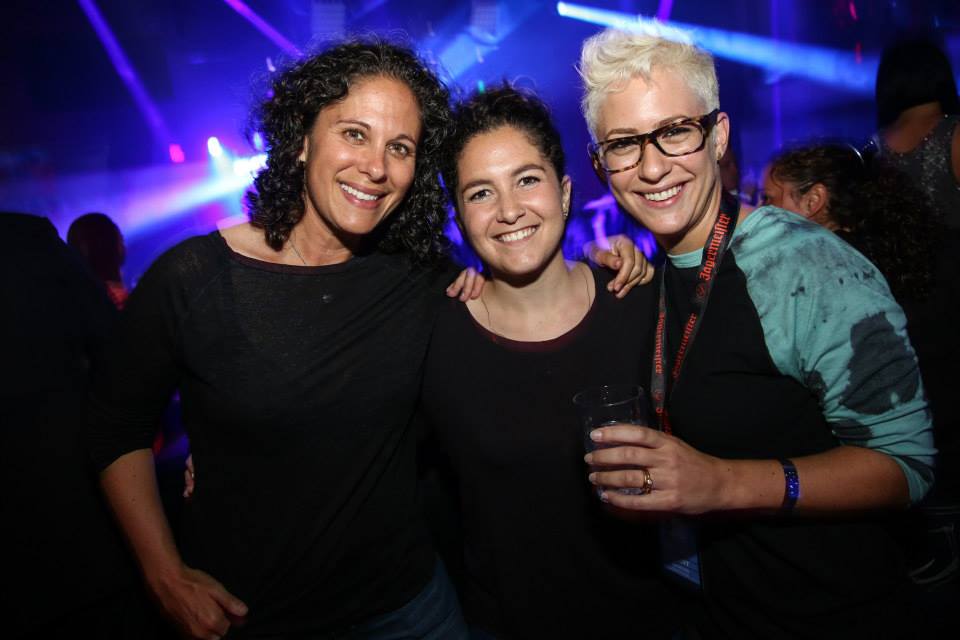 Q. How has the scene changed (if at all) since you came out?
A. Things have shifted in the lesbian scene in NYC many times over the past decade. Parties have come and gone of course, but the main difference, I would say, is the new 'Brooklyn' era. For the most part, things in NYC have always been centered around Manhattan. Tourists didn't think of visiting Bushwick when planning a trip to the big apple. Native New Yorkers (who didn't grow up in Brooklyn) didn't have any interest in moving there. These days, a good portion of LGBTQs are residing in areas in Brooklyn that they wouldn't have stepped foot in 10 years ago. As the rents in Manhattan skyrocketed, artists, young families and LGBTQs started moving further and further into Brooklyn (first Williamsburg, then Park Slope, Greenpoint, Fort Greene, Clinton Hill, Bed Stuy and then Bushwick). This shift has created a new area for artists and the queer community to live, exist, experiment, etc. At the same time I think it's created a physical and mental separation within the LGBTQ community. There are Brooklyn people and other New Yorkers, and it's much more of a challenge to create a space or a party that is both physically accessible and appealing (for everyone).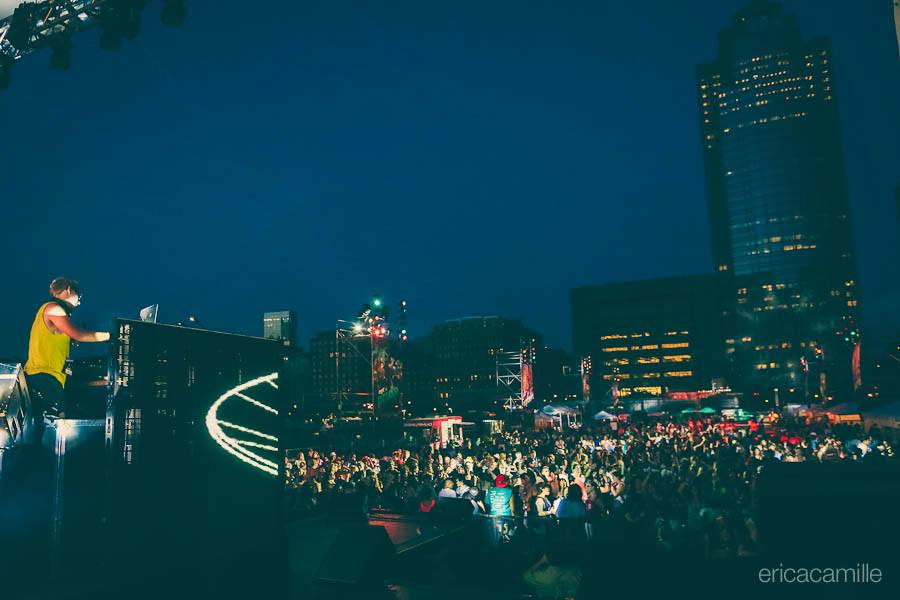 Q. When did you start producing events? and Why?
A. I started producing events about four years ago. I was inspired by a couple of things; namely, the lack of options in NYC nightlife, particularly for women/lesbians, and the extremely high quality 'gay boy' parties I was DJing for at the time. Why did the guys have these amazing venues, DJs, and performers? The girls always seemed to get stuck in a dive bar with one bathroom and no toilet paper. The imbalance was shocking. I just couldn't understand why the expectations were so low for the L's. Also, as a DJ, I just wanted to spin in awesome venues. So somewhat selfishly, I started to seek out venues that I wanted to DJ in, that I thought could help breathe new life into such a niche scene.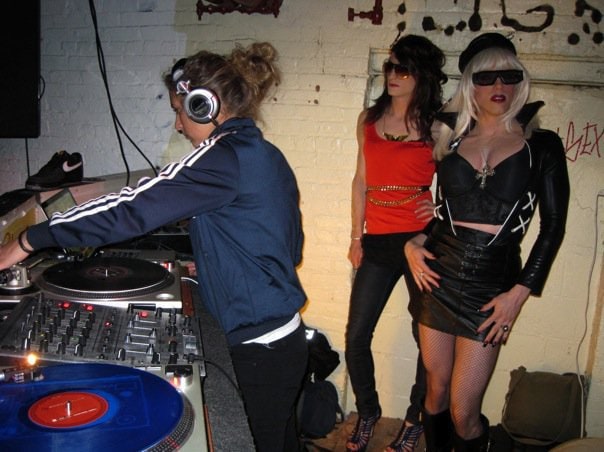 Q. Tell us about the first time you donned a set of headphones behind the DJ booth. (Was it a lesbian event?)
A. My first DJ gig was (coincidentally in Bed Stuy, Brooklyn) at a place called Sweet Revenge – aka One Last Shag these days – nearly six years ago. A friend of mine from high school was the manager there and secured me a weekly Wednesday party. I don't think he knew it was my first time DJing outside of my bedroom. It wasn't specifically a lesbian event, but the bar had and still has a very mixed LGBTQA following.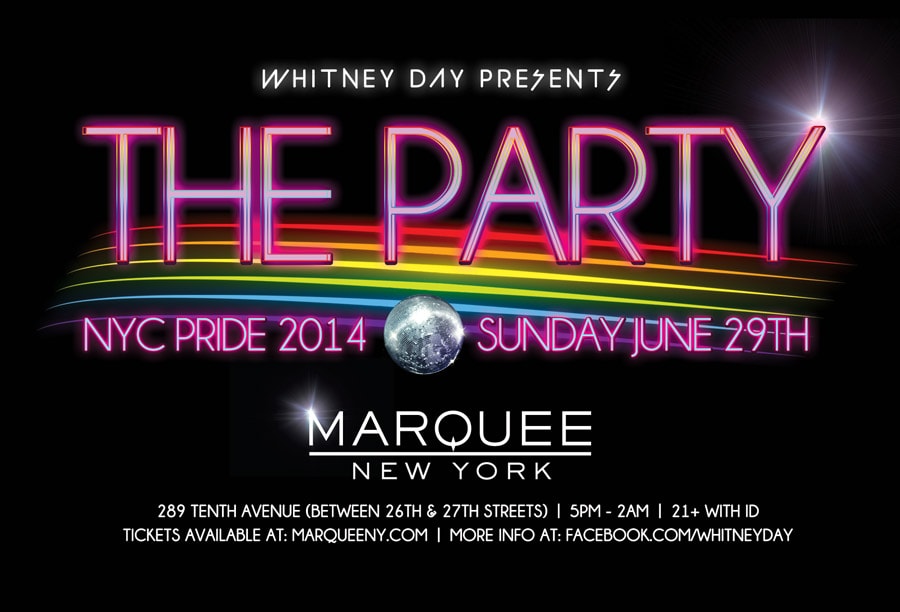 Q. What's the best memory you have from one of your events?
A. Basically the entire night at 'THE PARTY,' my annual Pride event at Marquee. It was just unbelievable. I had two international DJ friends fly thousands of miles to play with me and we rocked the crowd. Plus this incredible aerialist blew everyone away and Batala NYC, an all-female Brazilian style drum battalion, took the room by storm driving the crowd totally insane. It was one of those nights I got feedback on weeks and weeks later. The energy of the crowd was so high for those nine hours, it felt palpable from the DJ booth. The venue was thrilled, the patrons were thrilled, and I agree (with many of the party-goers) that it was one of the best parties I've ever been to in my life.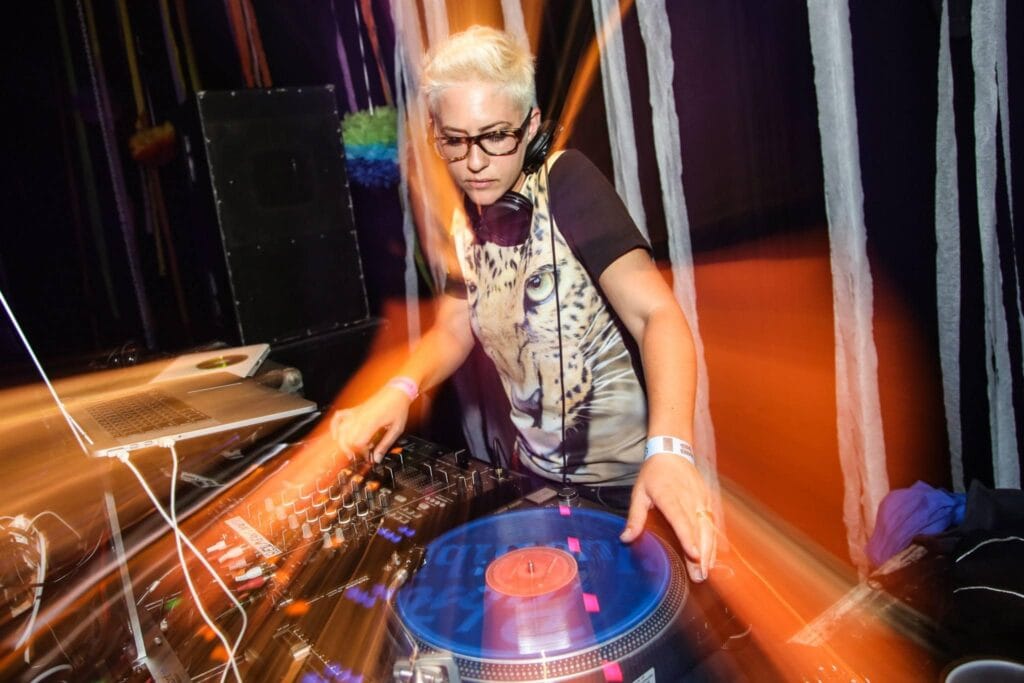 Q. If you could only play 5 songs in one night, what would they be?
A. My answer would probably change day-to-day, but these are a few of my go-to favorites:
"You don't know me" – Armand van Helden
"Wish I didn't Miss You" – Angie Stone
"Freedom" – Grades (a remix of Jill Scott's 'Golden')
"Pushin On" – Oliver $ & Jimi Jules (Tchami Remix)
& pretty much anything by Chocolate Puma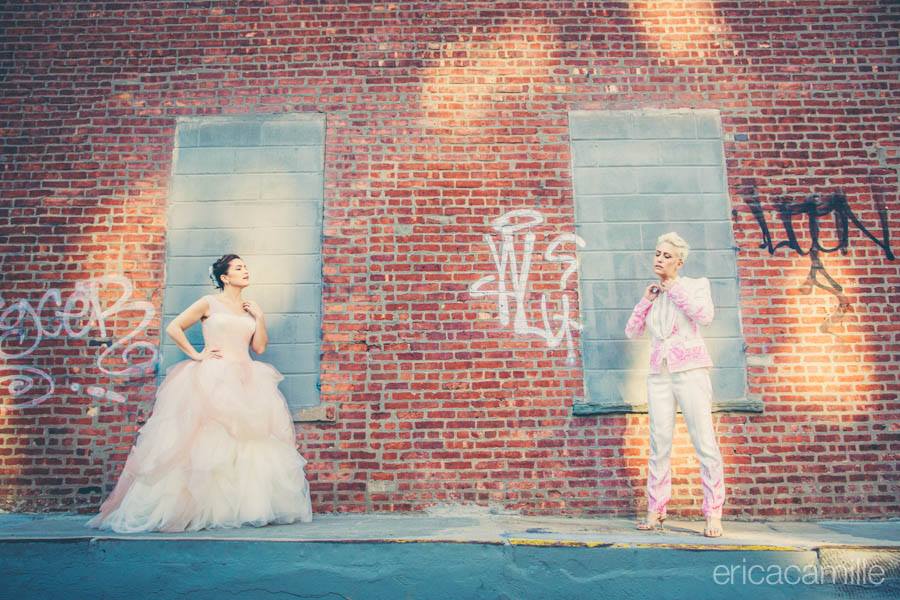 Q. Have you ever tried online dating?
A. I have not! I know so many people who have, and successfully! But I met my (now) wife in college at age 19, in the old-school lesbian way: singing in an all-female A Capella group.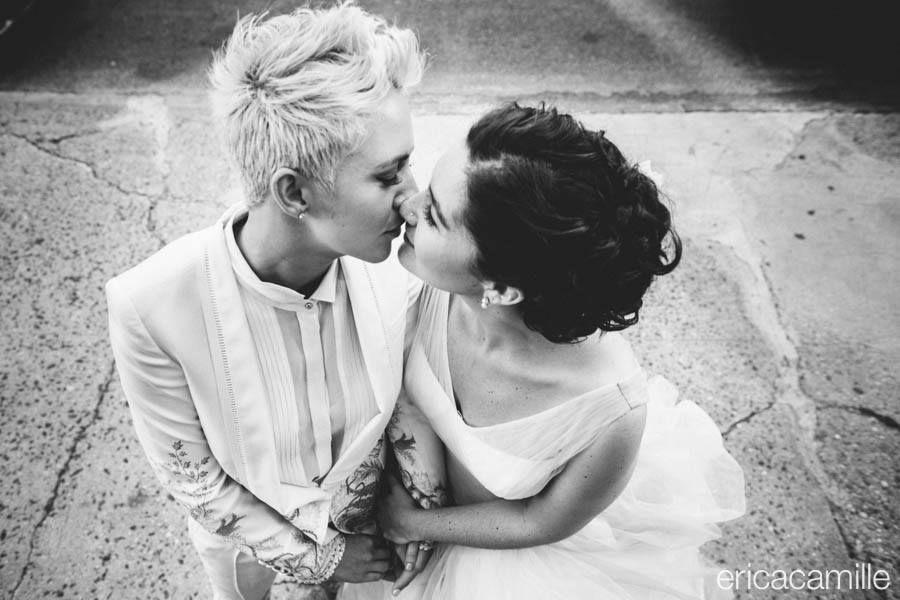 Q. What about your ideal date?
A. I love the beach and I'm a big foodie. I'm more into uncovering local hot-spots versus paying top dollar to eat in a 'fancy schmancy,' white tablecloth kind of place. So a fantastic date for me would be watching the sunset over the beach, cozying up on a blanket and then leisurely enjoying something delicious, sitting outdoors, while talking and taking in my beautiful woman.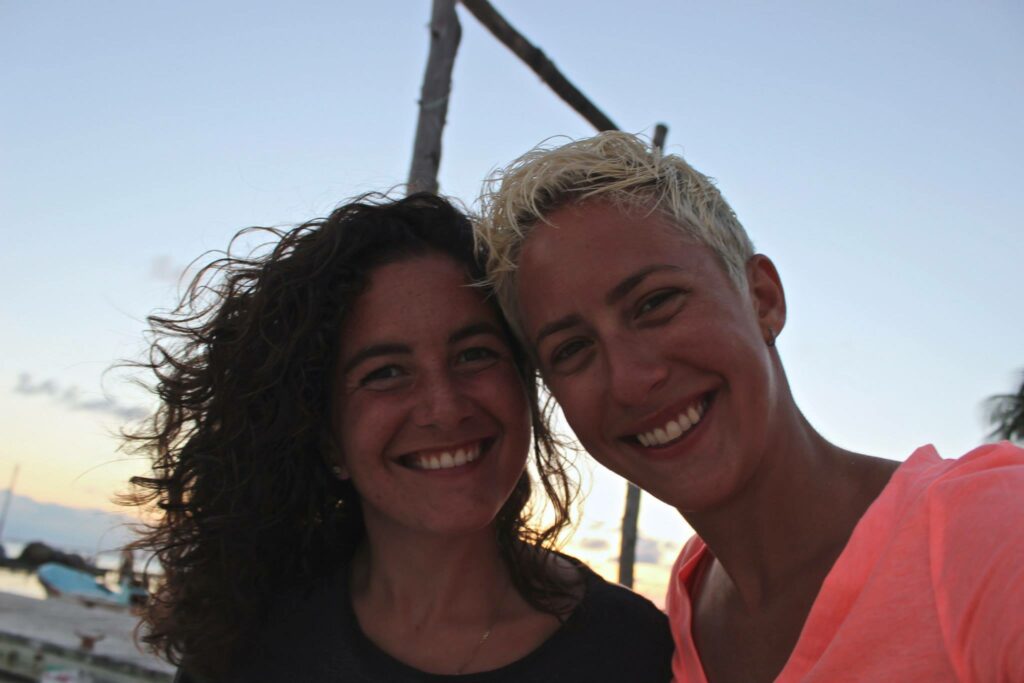 Q. What's next for Whitney Day Presents?
A. I have a few things in the pipeline as both a DJ and event producer. 100% I will be producing my biggest event of the year during NYC Pride on Sunday, June 28th at Marquee following the parade – and most likely a few other events during pride week (last year I threw a sold out pool party at the Dream Hotel downtown, which was amazing, so possibly that one again). In the meantime, I'm working on expanding my brand to the west coast and potentially starting up an event in Los Angeles.
My DJ schedule is pretty busy this spring – I'll be DJing at Dinah Shore in Palm Springs for the first time. From there I'll fly to Miami to headline Miami Beach Pride's 'Fling' event, and then it's off to Europe for a three week tour in Germany, stopping in Munich, Berlin, a few smaller cities and finally Hamburg for 'L-Beach', the largest indoor women's music festival in Europe. It'll be my fourth year returning to play that festival. In addition, I've just wrapped a few shows this February in NY – 'Winter Heat' for the Empire State Pride agenda, Bad Habit and Scissor Sundays at the Rusty knot with JD Samson.
My other goal for this year is to produce a few remixes. It's the step that will take my career to the next level.
Q. Who are some of your biggest influences in the music scene?
A. I'm not sure any one person has had more influence on me musically than anyone else. I'm always looking back and studying pioneers like the late Frankie Knuckles, but I never stop looking forward to the new singers, DJs, and producers who are popping up like crazy. DJ/producer Zedd is someone who really appeals to me. Even though musically his vibe isn't personally my taste, he's someone who is incredibly involved with his image and every aspect of what he puts out into the world. From the studio sessions, to the show lighting, branding, creative, technical and business practices he's got it covered. People who are more than artists, who put their foot down and determine their own voice and destiny, they are the ones who inspire me.
Q. Is there anyone you look up to in the LGBTQ community? and Why?
A. I am so lucky to have formed some amazing connections in the worldwide LGBTQ community. Being a bit younger and newer than most of the other major players, I do look up to a number of women who have been producing events for a long time. I know if I need advice I can call on friends who produce the biggest events in Miami or LA, women who run the biggest lesbian publications and websites, even DJ friends from Australia to Germany who have about 20 years experience on me. I'm extremely lucky to have such inspiring women just a phone call away. I have grown to deeply respect and genuinely love them over the years.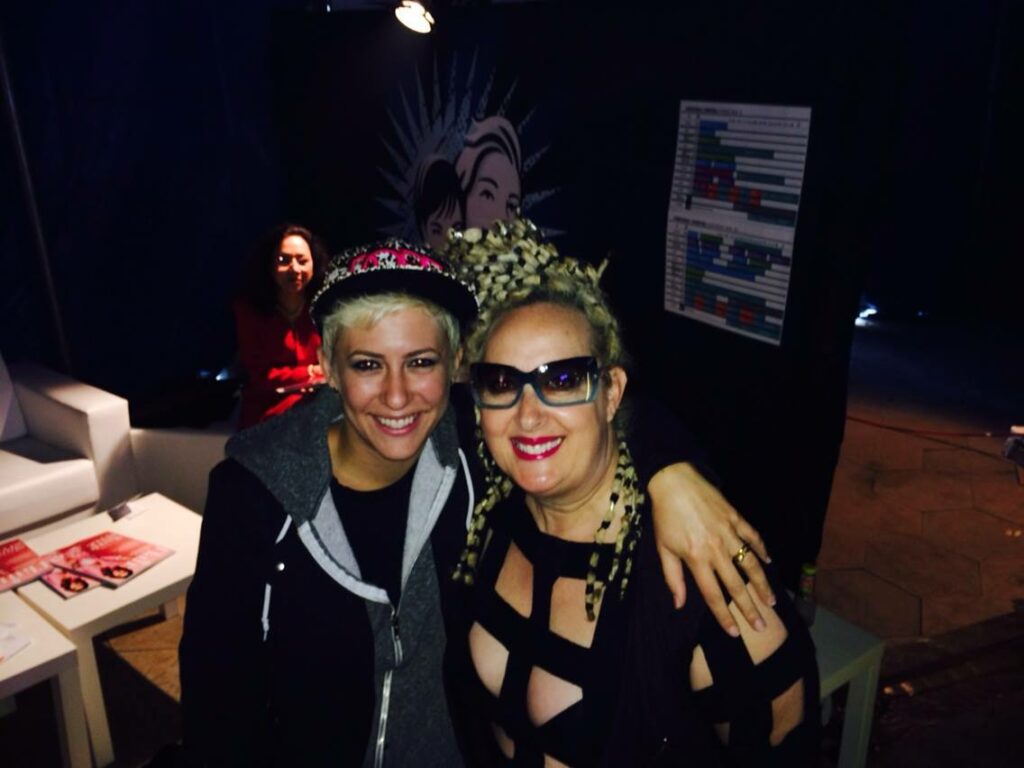 A few friends that stand out particularly are the ladies who make up the band BETTY. They have been writing music and working together as a group for a million years (they formed in 1986), an accomplishment in itself in the music world! Additionally, they use their music as a form of activism for extremely important causes like humanitarian outreach, equal rights, peace, aid and the empowerment of girls and women. They work with the US State Department internationally as cultural diplomats. All around, amazing people.
Q. If there's one piece of advice you could give our readers/users what would it be?
A. Dating advice – I would say, be open minded. Get to know someone. Don't just judge someone by their picture. You never know who could be your soulmate, but it's hard to find out if you don't give someone a chance.
Overall – if they can do it, so can you. That's always been my thought process. The only thing between wanting and becoming is the action of actually doing! Don't wait for mom and dad's approval, don't push off that around-the-world trip. Want to be a singer? a chef? want to get healthy? move to a new city? Do what makes you happy. In the end you have to be happy with the choices you make. That's what matters.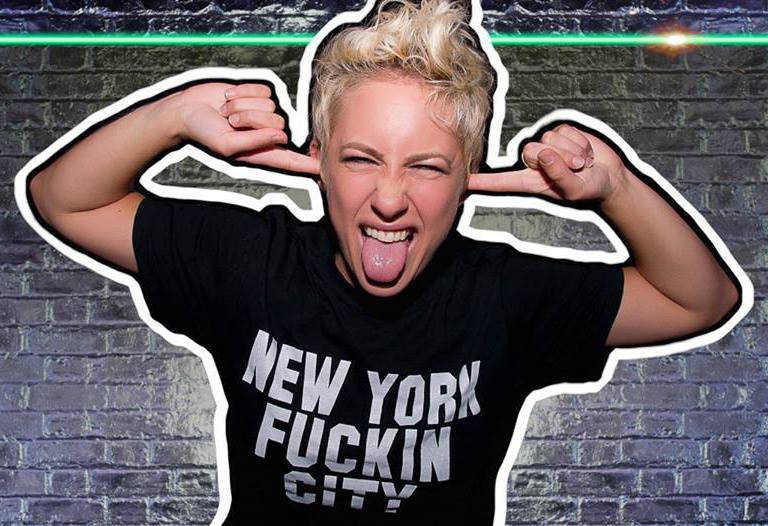 What else should I know about Whitney Day? 
Whitney is a classically trained musician-turned party-rocker leading the pack of a new generation of DJs. As quickly as she's launched her career in the NYC club scene, she's built a name for herself as a music taste-maker across the US and internationally. Armed with an exploding fan-base, coveted residencies and an impressive gig list (including Cielo, Barclay's Center, Webster Hall, Pacha, Marquee, Tenjune, Hudson Terrace, Soho House, Avenue, Greenhouse, PH-D and more), Whitney's momentum is unstoppable.
With an instinct for reading the crowd and an ability to artfully mix genre-blending sets, Whitney refuses to be pigeonholed into any one category. From underground Brooklyn warehouses to international music festivals to tropical circuit parties and celebrity studded benefits, she knows no bounds. But most importantly, it's her infectious passion for mixing music and performing on-the-fly sets that keeps the vibe fresh and energetic every time.
As a two-time Official NYC-Pride Headliner and DJ to the former Mayor of New York City, Whitney has received various stand-out press coverage from track-by-track analysis in The New York Times to a feature in NEXT Magazine. She's even repeatedly recognized as the 'Queen of Lesbian Nightlife' by Time Out New York. But to call her a DJ for lesbians is to underestimate her grasp – this ubiquitous spinner has played the Circuit from 'Winter Party Festival' in Miami, 'Sandblast Weekend' in Asbury Park to 'Inferno Puerto Rico' in San Juan as well as gigs across Las Vegas, Boston, D.C., Denver, Fire Island… all the way to Germany and Australia. She is the first DJ from the US to perform at Europe's largest indoor music festival for women, the official DJ for the GIANTS 2012 Superbowl Parade and now Whitney doubles her focus by producing wildly popular events for LGBTQs in New York City and Los Angeles throughout the year.